See Through a Falcon's Eyes As It Hunts (Video)
What happens when you put a camera on a falcon? Awesomeness ensues. Some falconers in Abu Dhabi created a mini-helmet camera -- sort of like a GoPro for birds of prey -- and then set one loose in the desert. The footage that was captured gives you a glimpse into the majestic bird's vantage point [...]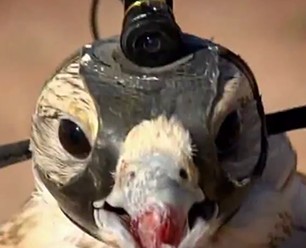 Image: Screenshot
What happens when you put a camera on a falcon? Awesomeness ensues.
Some falconers in Abu Dhabi created a mini-helmet camera — sort of like a GoPro for birds of prey — and then set one loose in the desert. The footage that was captured gives you a glimpse into the majestic bird's vantage point as it flies through the sky and hunts for food.
As PetaPixel notes, with such rolling smooth footage captured, "it's clear that falcons have imagine stabilization built into their bodies." Skip past the first two minutes if you want to go straight into the aerial shots.