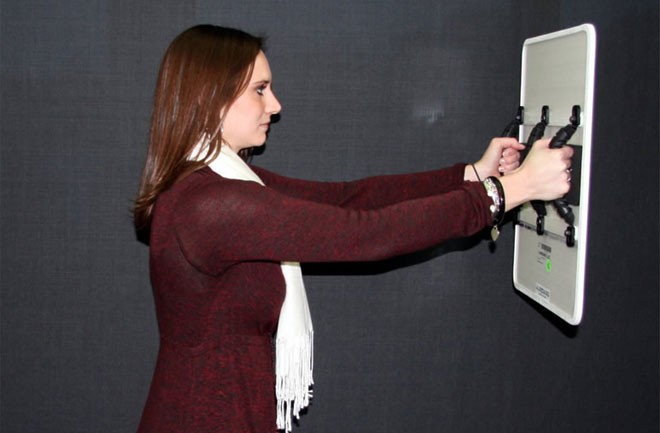 In 2003, a teacher convinced a teenage gunman to put down his weapon after fatally shooting a 14-year-old and 17-year-old at a rural school in Minnesota.
Now, the school district is attempting to safeguard its students with physical shields: It's one of a handful of districts across the nation investing in bulletproof whiteboards.
An armor manufacturer in Maryland developed the product in response to the Newtown, Conn., school shooting.
"It's something I don't think any American can tolerate anymore, and we're in a position to do something about it," George Tunis, CEO and chairman of Pocomoke City-based Hardwire, told USA Today. "I was like — all right, let's take everything we got, see what we can throw at this problem, figure out an innovative solution."
BLOG: Double Revolving Doors Block Armed Intruders
The 18-by-20-inch, 3.75-pound white boards cost $300. The idea is that students use them for figuring the square root of 16, but a teacher could grab the rubber handles on the back and turn it into a shield in an emergency.
"We are one of the handful of schools in the nation that knows what's it like to put kids in lockdown for real. We heard loudly what that did to those students," Cold Spring Police Chief Phil Jones told The Associated Press. "This is the best development in school safety I've ever seen in my life."
BLOG: NRA Releases Target Practice App for Kids
One of the Rocori victim's parents commended the idea, although he said he doesn't think they would have saved his son. Others, though, said the boards could provide a false sense of security.
Bill Nesbitt, president of the school security consulting firm Security Management Services International, told The AP that the best recourse would be to escape from the situation instead of relying on a shield.
Photo: A bulletproof whiteboard made by Hardwire. Credit: Hardwire