Saturn 5 Rocket Engines Fished From Sea
The expedition was funded by Amazon founder, Jeff Bezos. After restoration, the twisted F-1 engines will be put on public display. ->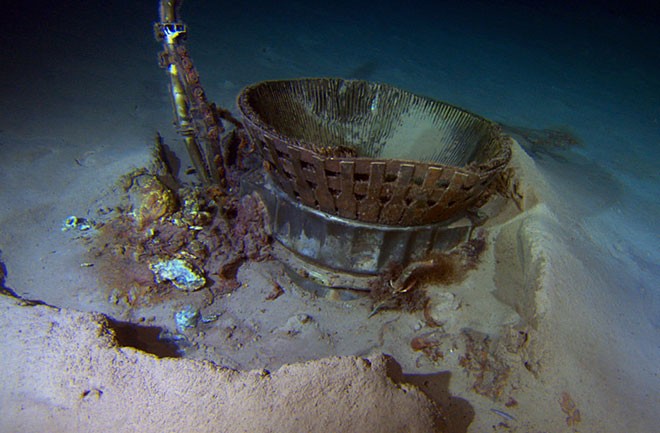 Two engines used on NASA Saturn 5 rockets to fly astronauts to the moon more than 40 years ago have been retrieved from the floor of the Atlantic Ocean, Jeff Bezos, who funded the recovery expedition, revealed on his project's website.
"We've seen an underwater wonderland — an incredible sculpture garden of twisted F-1 engines that tells the story of a fiery and violent end, one that serves testament to the Apollo program," said Bezos, a long-time space buff and the founder and chief executive of Amazon.com.
"We photographed many beautiful objects in situ and have now recovered many prime pieces. Each piece we bring on deck conjures for me the thousands of engineers who worked together back then to do what for all time had been thought surely impossible," Bezos said.
PHOTOS: Apollo 18: Myths of the Moon Missions
NASA offered its congratulations, calling the find "historic."
"I  congratulate the team for its determination and perseverance in the recovery of these important artifacts of our first efforts to send humans beyond Earth orbit," NASA administrator Charles Bolden said in a statement.
Bezos said the many of the serial numbers on the Apollo relics are missing or partly missing so identifying which mission the engines were used for will be difficult.
BLOG: The Apollo 1 Conspiracy Theory
"We might see more during restoration. The objects themselves are gorgeous," Bezos added.
After restoration, the engines will be put on public display, NASA said.
The Bezos Expeditions recovery ship, Seabed Worker, is due back at Port Canaveral, Fla., Thursday morning after three weeks at sea.
"We're bringing home enough major components to fashion displays of two flown F-1 engines. The upcoming restoration will stabilize the hardware and prevent further corrosion. We want the hardware to tell its true story, including its 5,000 mph re-entry and subsequent impact with the ocean surface. We're excited to get this hardware on display where just maybe it will inspire something amazing," Bezos said.
Image: Part of a first stage engine used on a Saturn 5 rocket flight. Credit: Bezos Expeditions.