Sailing Across the Atlantic -- With Babies
Extensive sailing experience and tons of preparation allowed a family with two young children to enjoy a three-week trip across the Atlantic.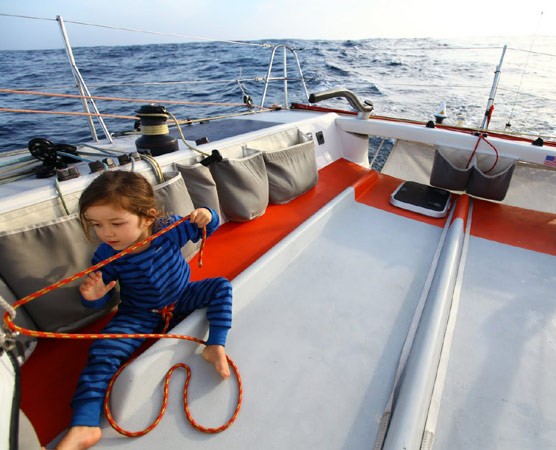 Three-year-old Tormentina handles the ropes./credit: http://anasaziracing.blogspot.com/
For many people, having kids forever marks a point in their lives defined by "before" and "after." The time before may have been filled with travel, adventure and a carefree spirit. But life with young kids is full of obstacles including diapers, exhaustion, soccer games, school schedules, financial strain, and fears about dangers in foreign lands.
It doesn't have to be that way. If you are or plan to become a parent who is determined to continue exploring and adventuring despite — and even with — your kids, you might find inspiration from this family of four.
With their kids, 3-year-old Tormentina and 10-month-old Raivo, James Burwick and Somira Sao just spent three weeks sailing across the Atlantic from Portland, Maine, to France.
They took off on June 26 in a 40-foot sailboat called Anasazi Girl. In a blog post that day, Sao wrote:
"Anasazi Girl is perfect. Just Perfect. She is the safest boat I could imagine taking my family on an ocean crossing in. Huge pressure on both of us to make this voyage successful and safe, with our precious cargo on board. James the best person to drive her with the family on board after practicing for 30,000 miles solo. A wild mixture of emotions inside making my insides flip: excited, nervous, anxious. Difficult and challenging to say goodbye to my family and friends. I can't believe we get to go Transatlantic with our two babies! We get to give our kids the gift of experiencing power and peacefulness of the ocean."
Half-way through the journey, Burwick sent a message to Sail-World.com, reporting big seas and a traveling speed of 12 to 15 knots. The family seemed to be doing great: "Tormentina is 3 today," the proud Dad wrote. "I went to the head with her and she promptly told me I did not need to hold her hand. 'I am three now!'" Raivo was spending lots of time naked, he continued, to prevent overheating from his diaper.
On Day 18, Burwick sent a note to SailingAnarchy.com, offering a few glimpses into family life at sea. "Family camped out in the nav seat watching a Disney dvd Tangled," is one example, followed later by, "Down below it is approx 7 o'clock. the time when the kids go off. Arsenic hour or happy hour it you have something to drink. Radar tuned."
They arrived on July 17, followed by an enthusiastic post from Sao:
"21 days at sea with James and my two beautiful babies. Absolutely exhausted + elated, floating on the land now as we wake up slowly from our dream life across the North Atlantic on a 40' sailboat powered only by the wind."
"Everyone is healthy and happy," wrote Sao in an e-mail to Discovery News.
Her husband's extensive sailing experience and tons of preparation allowed the family to relax and have fun on the trip, especially during a three-day windless period in the middle of the Atlantic, during which lots of whales and dolphins came by to visit. Her email continued:
"Our son (now 10 months old) is a very happy child. When the weather was good, which was 90 percent of the time, he spent the days in the cockpit in his harness. He is standing up and crawling, so he found the companionway the place to do this. He spoke his first words, he spent time with his sister in the little safety cage built by our sail-maker in Maine, and he got strong – we expect him to walk any day. Our daughter is at the age of many, many questions. What a learning experience it was for her: marine life (whales, dolphins, sea turtles, sea birds), computer navigation, autopilot, radar, video production, photography, adventure food preparation. She climbed all over the boat, had a birthday celebration at sea (3 years), and got to look into the eye of a whale. What a magical time for her — she thrived."
The family promises more images and video to come on their website. What is the coolest adventure you've been on with your family? Would you ever consider doing a trip like this with kids?