Russia's Extreme Floods Visible from Space
Satellite images show how record floods have swollen the Amur river in Russia , where more than 5 million people there and in China are being affected by rising waters. Continue reading →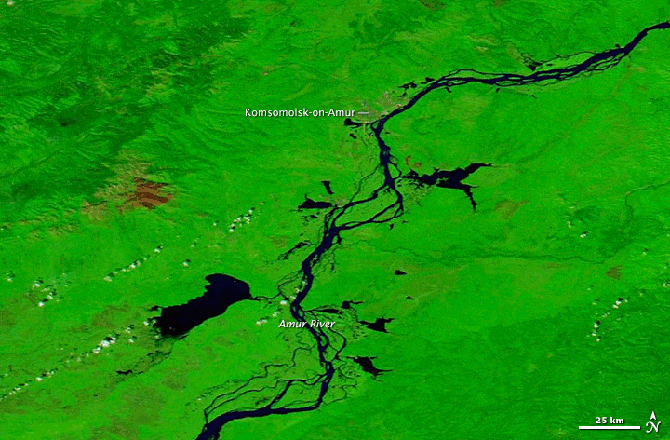 NASA image courtesy LANCE/EOSDIS MODIS Rapid Response Team at NASA GSFC
Extreme floods have been threatening northeastern China and eastern Russia and can now be seen swelling the Amur river in these images posted by NASA's Earth Observatory. The flood waters have reached the Russian city of Komsomolsk-on-Amur (pop. about ~500,000). The surge of water blasted past a dam there and flooded 300 homes and may inundate an additional 36,000 as the waters continue to rise.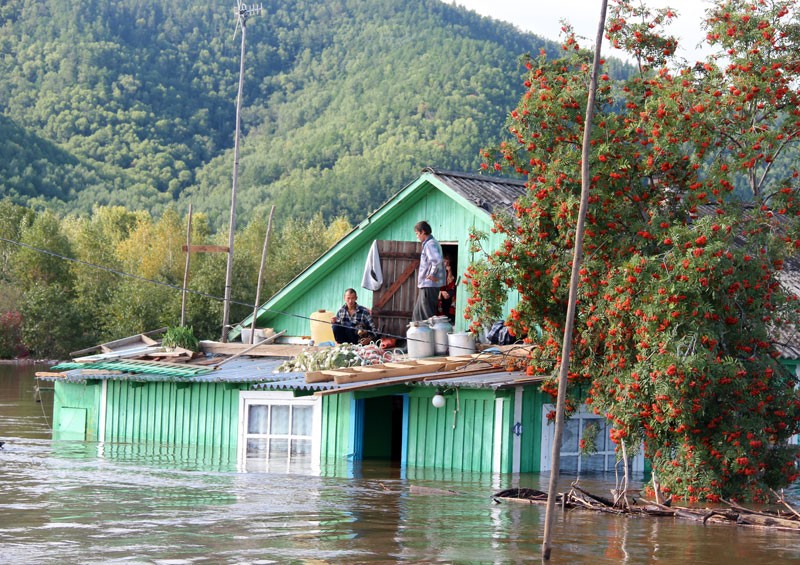 Local residents on the roof of their house in the flooded village of Belgo on the Amur River, near the city of Komsomolsk-on-Amur on Sept. 12, 2013. (ITAR-TASS Photo/Corbis)
NEWS: Floods Top 2013 World Disaster Bill So Far
Both images are form the Moderate Resolution Imaging Spectroradiometer (MODIS) on NASA's Aqua satellite. They are short-wave and near-infrared images, and so the colors are false (since they were taken in wavelengths not visible to human eyes). What they show better than visible light is the extent of the water (black), the plant cover (green) and even a small area that burned recently (red).
The image showing the flooded Amur River was collected a few days ago, on Sept 8. The other is for comparison, and was collected on Aug. 17, last year.
As of Sept. 7, the Amur River had flooded to a record 28.57 feet (8.71 meters) in Komsomolsk-on-Amur and was still rising. In all, more than 5 million Russians and Chinese have been affected by the flooding and thousands of buildings have been flooded.