Rule the Ugly Holiday Sweater Party
Not every office holiday party requires you look your button-down best for the boss. Some offices have one of those let's-show-how-crazy-and-fun-we-are party planners who sets up the year end event with one of the trendiest new party themes: The Ugly Holiday Sweater Party. And whether it's a company shindig, or one your buddy's "I love [...]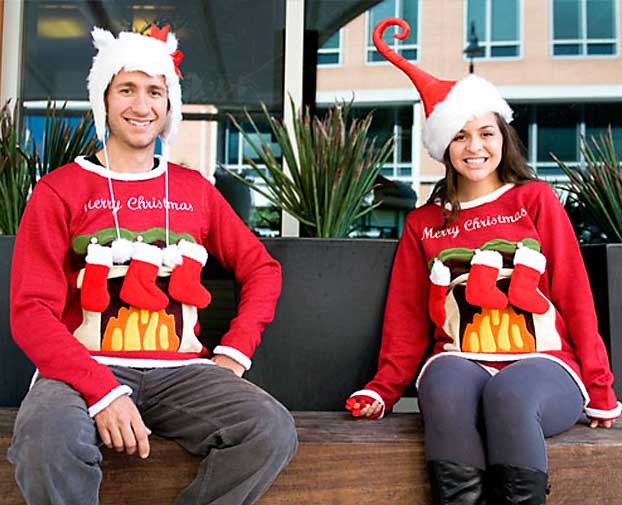 Photos: Skedouche.com
Not every office holiday party requires you look your button-down best for the boss. Some offices have one of those let's-show-how-crazy-and-fun-we-are party planners who sets up the year end event with one of the trendiest new party themes: The Ugly Holiday Sweater Party.
And whether it's a company shindig, or one your buddy's "I love Christmas more than anything!!!" girlfriend is throwing, you can't half-ass your sweater selection. You're going to look ridiculous no matter what you wear, so you might as well take the reindeer by the horns and get the best, tackiest, ugliest sweater you can find. And one can be a real challenge.  That's where Skedouche has your back.
Founded in 2009 to bring tacky holiday sweaters to a new level (and because the founder was tired of scouring the ladies departments to find a decent, ugly and not boring holiday sweaters to wear to these parties), Skedouche prides itself on creating high-quality "festive" clothing for those who demand only the best from their tacky wardrobe.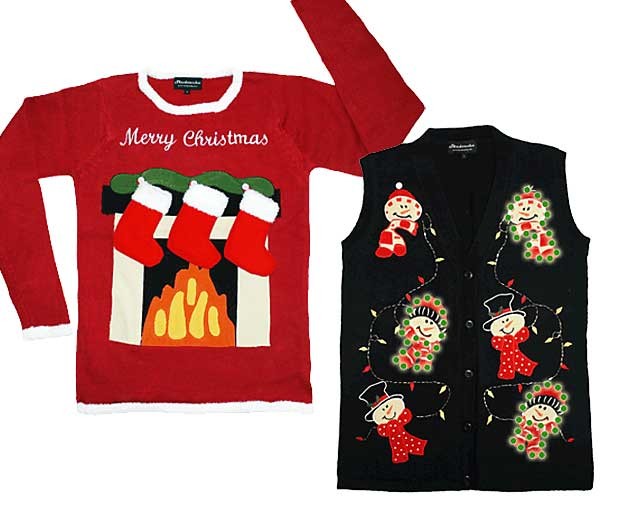 Take their lighted selection. The new Lighted Snowman Vest comes complete with red and green LED lights that flash on each of the six snowmen. Or go all out with the Lighted Fireplace sweater. Besides the LED "fire" this festive selection features thick, soft 3D stockings.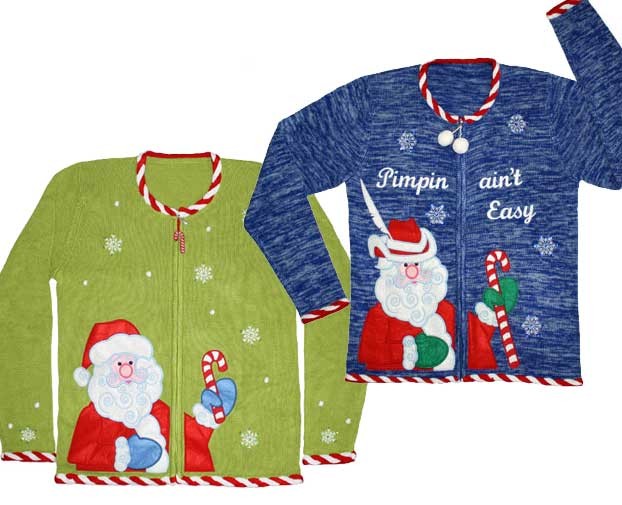 Looking for something that drags Santa into the tacky? Skedouche has a pair of zip-front cardigans featuring the big guy. Big Pimpin' features Santa in a pimp hat with candy (pimp) cane, while the other features a dazed looking Santa on a green background. And of course, both have candy cane stripes on the collar and cuffs.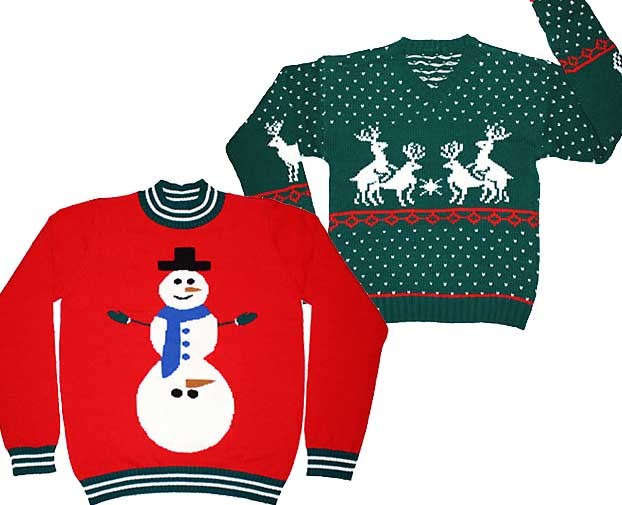 Ever joke about wearing a "Two Reindeer Humping" sweater to your office holiday party? Now you can. Slipped over a shirt and tie, Skedouche's v-neck version looks innocent enough at first glance, but look closer and you see two pairs of antlered animals enjoying some naughty reindeer games.
Like your risque sweater a little more subtle? Opt for the Excited Snowman. Creative carrot placement let's you know he's happy to see you.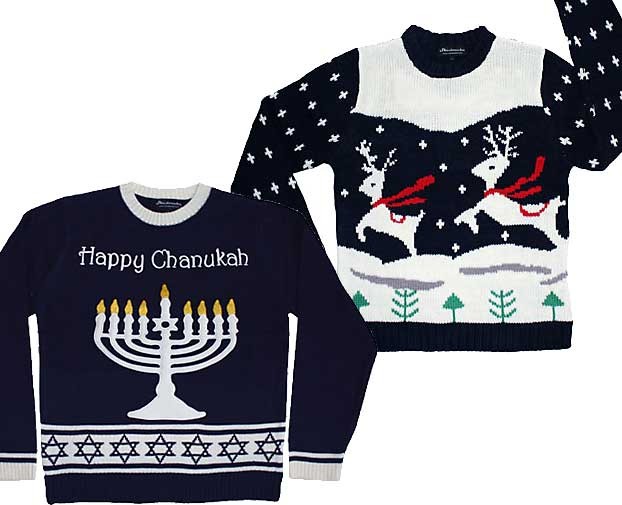 You can also take tacky from the big screen with their sweater inspired by the sweater worn in the movie Step Brothers. Ugly, and shows your skill at throwing in a pop culture reference. If your holiday plans call for eight crazy nights instead of one day, you can rock the menorah on the Happy Chanukah sweater. And if your ugly holiday sweater needs a little accessorizing, you can always top it off with a striped candy cane scarf. At this point, it can't get any worse.