Ruins Near Pyramids Reveal Leopard Teeth, Calf Bones
From the ruins of an ancient mansion emerge clues about the fancy lifestyles of Egyptian high society.
Courtesy AERA
Researchers discovered the remains of a large house with at least 21 rooms near the Giza pyramids and a nearby mound containing leopard teeth, the hind limbs of cattle, and seals with the titles of high-ranking officials. (This image was taken before excavations were complete.)
Mohamed Aly Soliman/Rossella Lorenzi
Are these formations in the Egyptian desert long lost pyramids? Or are they just naturally occurring pyramidal rock outcrops?
The structures were spotted last year by amateur satellite archaeologist Angela Micol. She used Google Earth 5,000 miles away in North Carolina.
Angela Micol/Rossella Lorenzi
Located about 90 miles apart, the two possible pyramid complexes appeared on aerial imagery as an unusual groupings of mounds with intriguing orientations.
One site near the Fayum oasis revealed a four-sided, truncated mound approximately 150 feet wide and three smaller mounds in a diagonal alignment (left).
The other site, just 12 miles from the city of Abu Sidhum along the Nile, featured two large and two small mounds (right).
Mohamed Aly Soliman/Rossella Lorenzi
First reported by Discovery News, Micol's claim gained widespread media attention and much criticism.
Authoritative geologists and geo-archaeologists dismissed what Micol called "Google Earth anomalies" as windswept natural rock formations -- buttes quite common in the Egyptian desert.
Medhat Kamal El-Kady and Haidy Farouk Abdel-Hamid
Micol was then contacted by an Egyptian couple -- collectors who claimed to have important historical references for both sites.
According to Medhat Kamal El-Kady, former ambassador to the Sultanate of Oman, and his wife Haidy Farouk Abdel-Hamid, a lawyer, former counselor at the Egyptian presidency and adviser of border issues and international issues of sovereignty, more than 34 maps and 12 old documents in their collection would support the existence of the lost pyramids.
Strictly copyrighted; intellectual property rights by Medhat Kamal El-Kady and Haidy Farouk Abdel-Hamid
For the site near the Fayum, they cited three maps in particular, dating from 1753 to the late 1880s.
The documents would point to the existence of two buried pyramids (within the red square) which add to the known Fayum pyramids of Lahoun and Hawara.
Mohamed Aly Soliman/Rossella Lorenzi
While the site in the Fayum has not been investigated yet, a preliminary on-the-ground expedition has already occurred at the site near Abu Sidhum.
According to Micol, it provided intriguing data to compare with El-Kady and Farouk's maps and documents.
Mohamed Aly Soliman/Rossella Lorenzi
Suspecting the mounds were ancient in origin, locals tried to dig into one of the two smaller mounds.
Mohamed Aly Soliman/Rossella Lorenzi
The excavation failed due to striking very hard stone that Aly and Micol believe may be granite.
Mohamed Aly Soliman/Rossella Lorenzi
Aly Soliman believes the big mounds are hiding pyramids as the metal detector used over them signaled metal and showed an underground tunnel heading north.
Angela Micol/Rossella Lorenzi
Apart from the two larger and smaller mounds, the expedition team believes the site features a temple or habitation and a row of what may be mastaba tombs adjacent to the mounds. They are shown in the red rectangle thanks to a false color imaging technique developed by Micol.

The remains of a mansion that likely held high-ranking officials some 4,500 years ago have been discovered near Egypt's Giza Pyramids. Bones from young cattle and teeth from leopards suggest its residents ate and dressed like royalty.
Archaeologists excavating a city just 400 meters (1,312 feet) south of the Sphinx uncovered the house and nearby mound containing the hind limbs of young cattle, the seals of high-ranking officials, which were inscribed with titles like "the scribe of the royal box" and "the scribe of the royal school," and leopard teeth (but no leopard).
The house, containing at least 21 rooms, is part of a city that dates mainly to the time when the pyramid of Menkaure (the last of the Giza Pyramids) was being built. [See Photos of the Discoveries at Giza Pyramids]
"The other thing that is just amazing is almost all the cattle are under 10 months of age … they are eating veal," said Richard Redding, the chief research officer of Ancient Egypt Research Associates, at a recent symposium held here by the Society for the Study of Egyptian Antiquities.
From his sample of 100,000 bones from the nearby mound, Redding said he couldn't find a cow bone that was older than 18 months and found few examples of sheep and goat bones.
"We have very, very, high status individuals," said Redding, also a research scientist at the Kelsey Museum of Archaeology at the University of Michigan.
Leopard teeth
Besides cattle bones, the archaeologists found two leopard teeth in the house and another two in the nearby mound. They, however, found no leopard bones, leaving them with a puzzle.
Redding consulted ancient drawings that date to the Old Kingdom (the age when pyramid building was at its height), between 2649 and 2150 B.C. He found that some high-ranking individuals, including members of the royal family, wore leopard skin that still had the head attached. This would explain why they found teeth — which could have fallen out of the head — but no leopard bones.
High-ranking clergy known as "sem" priests were allowed to wear these leopard skins, and they could have been members of the royal house, noted Mark Lehner, the director of Ancient Egypt Research Associates, in an email to LiveScience.
Redding was also puzzled that many cattle hind bones, yet few forelimbs, were found. For some reason the people of the house avoided eating the forelimbs of the cattle. Again Redding turned to ancient drawings. There, he found numerous examples of scenes where people presented forelimbs as offerings to deities, but almost no examples of hind limbs being offered. As such, the people of this house were likely eating the remains of offerings.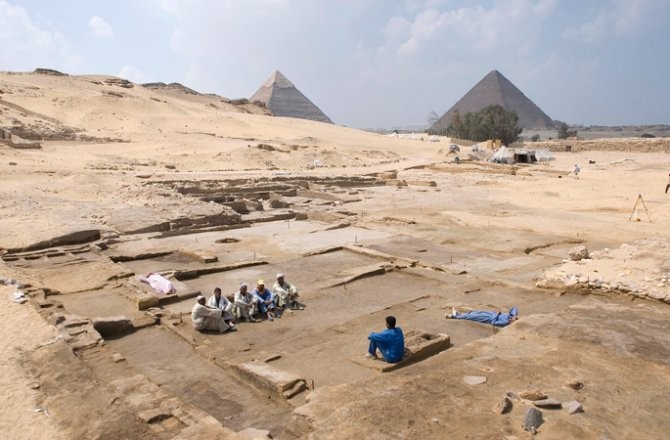 Researchers discovered the remains of a large house with at least 21 rooms near the Giza pyramids and a nearby mound containing leopard teeth, the hind limbs of cattle, and seals with the titles of high-ranking officials. Courtesy AERA
Clues to a priestly complex
This discovery may help the archaeologists identify offering places and dwellings of ancient priests. Since the elite house is full of hind limbs (the remains of offerings), Redding suspects that bone deposits that contain mainly forelimbs would be located in places where the offerings were being made. [Photos: The Lost City of the Pyramid Builders]
In 2011 Redding and his colleagues discovered what might be just such a place. Archaeologists call it the "silo building complex," and it is located near a monument dedicated to Queen Khentkawes, possibly a daughter of the pharaoh Menkaure.
Mummies' Faces, Hairdos, Revealed in 3D: Photos
"My analysis of the bones from the small excavations at (the building complex) in 2012, showed a strong bias towards forelimb elements — as to be expected in priestly garbage," Redding wrote in an email to LiveScience. "We will get larger samples this February, but right now my operating hypothesis is that the (complex) was occupied by royal cult priests."
Located near a basin that may be part of a larger harbor, this building complex "is flanked by long bakeries and contains a set of grain silos," Lehner said in his email. It "probably administered provisions and produced bread and other offerings."
The complex dates to a bit after the Giza Pyramids were built and may have been constructed at the site of an earlier town where people involved in the building of the Pyramid of Khafre (the second largest pyramid at Giza) lived.
More from LiveScience.com:
In Photos: Beautiful Pyramids of Sudan

Image Gallery: The Beautiful Sarcophagus of an Egypt Pharaoh

In Photos: 'Alien' Skulls Reveal Odd, Ancient Tradition
Copyright 2014 LiveScience, a TechMediaNetwork company. All rights reserved. This material may not be published, broadcast, rewritten or redistributed.