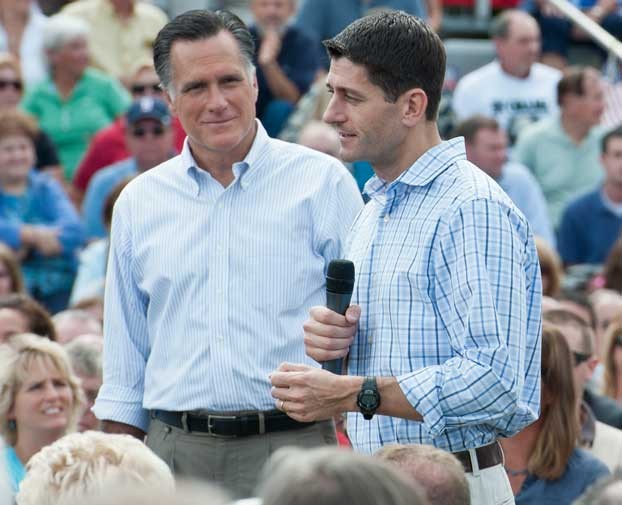 This week at the Republican National Convention the GOP trotted out their new slogan like one of Romney's pampered dressage horses: "We Built It." But I suggest the more appropriate slogan: "We Bought It" in light of the recent news that the Romney campaign purchased the right to sponsor a trending topic on Twitter.
Normally, topics being discussed on Twitter become trends when they are popularized organically by Tweeters using hashtags. For example, #NBCFail was quite popular during the Olympics.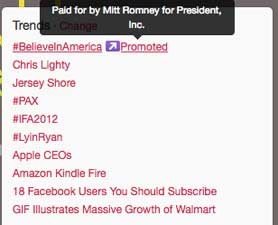 But as we all know, democracy can be bought. Mitt Romney's campaign proved this by buying #BelieveInAmerica and #RomneyRyan2012, which looks like any other trending topic on Twitter on the left side of the page, except that it's followed by a "promoted" icon. And if you until you place your cursor over it, reads "Paid for by Mitt Romney for President, Inc."
Twitter confirmed this will be the first time a Presidential campaign has bought a Twitter trending topic.
For a candidate who was not widely popular with his party's electorate during the primaries and for one who people still claim they don't know well, buying a little popularity can't hurt.
BLOG: Robot Prostitutes, the Future of Sex Tourism
Usually, the realm of promoted Twitter trends is reserved for commercial brands and the cost of purchase isn't cheap…unless you're flush with Bain Capital money. If that's the case, then the promoted trend's $120,000 price tag is just horse feed.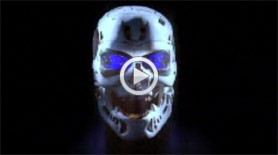 DNEWS VIDEO: CYBORGS, WIRELESS INTERNET, EXOSKELETONS, SYNTHETIC LIFE AND MORE …
Compared with other ways to spend money on Twitter,  "to trend for a day is a far more significant investment in resources," Zac Moffatt, digital director for the Romney campaign, told ClickZ.
While Moffatt said the campaign isn't shovelling out more than $120,000, he declined to say how much the campaign was spending on the trend.
While time will tell if the Democrats decide to take out their wallets and fork over any greenbacks for a Twitter trend, the Republicans can lay claim to planting their flag first.
"It's an opportunity for us to be the first Presidential campaign to use a Promoted Trend," said Moffatt.
BLOG: RNC Fortified By Behavior-Recognizing Cameras
He added: "The convention is one of those transformative moments when the entire country takes time to reflect."
Well bust my buttons, those are horsefeathers of a different color. That kind of reflection is too bright for my eyes. Better put on my black sunglasses like Patti Smith and have her ride me out of here on her Horses. They're the only ones I ride.