Robotic Clouds Could Cool 2022 Qatar World Cup Stadium
Now if they could only get this artificial cloud to rain.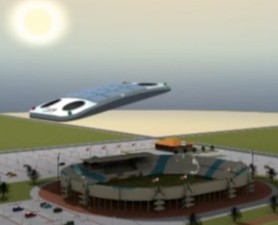 When, in December 2010, FIFA announced the World Cup host for 2022 as Qatar, people balked. In this article from the Guardian, Stewart James writes, "Members of the Qatar bid committee were immediately forced to go on the defensive as they faced questions about terrorism, the treatment of women and the blistering heat in what will be the smallest country to stage the World Cup finals."
At least one of those talking points is being addressed: the heat. Temperatures in the summer can reach up to 120 Fahrenheit. But Saud Abdul Ghani, head of the mechanical and industrial engineering department at Qatar university, thinks he may have a solution. He and his team propose large, robotic cloud-like structures made from a lightweight carbon structure, kept alot by four solar-powered engines. The artificial cloud could be flown over the Lusail Iconic Stadium by remote control to provide shade to the 86,250 spectators.
Watch a video of the artificial cloud in action here.
Architects, Foster and Partners, who are designing the stadium are already thinking about harnessing the abundance of sunlight in Qatar to power the Lusail Iconic Stadium.