Road Torq Is An Emergency Light That Always Works
You can't predict emergencies, but you can be prepared for them. Eton's Road Torq will surely come handy for such situations, so much so that it's got the backing of the American Red Cross. The Road Torq, part of Eton's TurboDyne series, works as a roadside beacon and emergency flashlight, using a rechargeable lithion-ion battery [...]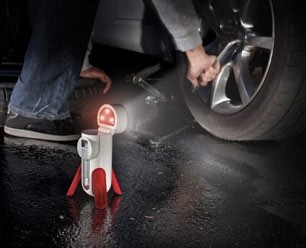 Image: Eton
You can't predict emergencies, but you can be prepared for them.
Eton's Road Torq will surely come handy for such situations, so much so that it's got the backing of the American Red Cross.
The Road Torq, part of Eton's TurboDyne series, works as a roadside beacon and emergency flashlight, using a rechargeable lithion-ion battery that can be powered by hand. Two minutes of cranking emits 15 minutes of full power. It can also charge up with DC power, but the ability to generate your own energy is key to surviving the toughest of predicaments.
This device is sturdy and well thought out. The head can be opened to a 90-degree angle that can work as a spotlight on one side, while the other works as a flashing beacon with 3 LED lights to alert nearby motorists. Furthermore, the legs, which fold out, are reflective. However, what I'd like to see is a water-resistant version of this, to ensure the Road Torq can work in all situations, because no one likes having to change a flat in the middle of a rainy night.