Reuters Twitter Feed, Blogging Platform Hacked
The hacks seem to have been perpetrated by pro-Assad propagandists in Syria.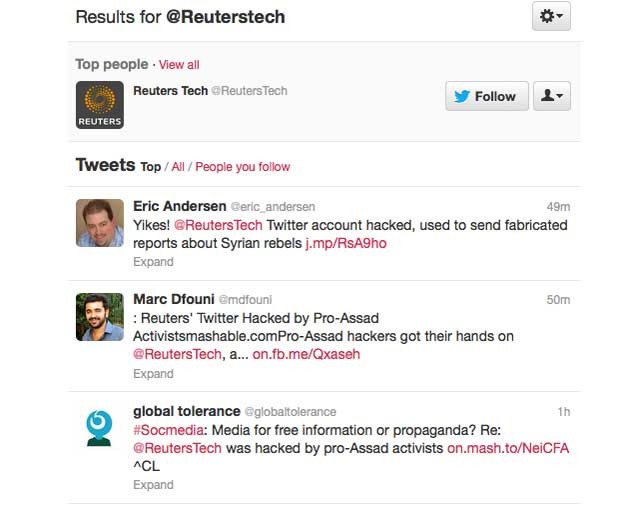 One of Reuters News' Twitter accounts was hacked Sunday, allegedly by pro-Assad propagandists. Using the handle @ReutersTech, the hackers posted around two dozen tweets claiming victories against pro-democracy forces. The tweets were a follow up to a a phony interview that appeared Friday with Free Syrian Army head Riad al-Asaad, who said his forces were pulling back from the city of Aleppo after clashes with government forces.
The false articles attributed to Reuters reporters claimed that the Syrian rebel movement planned to use chemical weapons smuggled from Libya and that it was retreating to Turkey after suffering a big defeat. Both stories were false.
The company took the stories offline, and changed the @ReutersTech Twitter handle to @ReutersME, according to a spokesman for Reuters. Reuters said it dealt with the problem (and presumably plugged the security hole).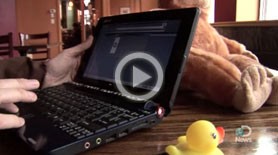 DNEWS VIDEO: COOL JOBS: HACKER
A screen shot of the false interview with Riad al-Assad can be seen here. To anyone reading closely it's pretty clear something is wrong — it's pretty plain that it wasn't vetted by a Reuters copy editor.
The Syrian Electronic Army, which operates with the tacit support of the Syrian government, has claimed responsibility for several attacks on Web sites that it says support the rebel movement.
The incident shows the increased role that cyber warfare has been playing in conflicts between nations. This attack was in the realm of (rather clumsy) propaganda and psychological warfare. But cyber attacks can be physical, too.
Iran's oil facilities were attacked this year, as were its nuclear facilities.  The Stuxnet worm that damaged the country's centrifuges may still be out there, and recently hackers caused a nuclear plant's workstation speakers to blast AC/DC music. Iran has hit back, hacking into a drone launched by the United States.
While hackers that engage in political acts — some would say acts of war — get the headlines, John Koetsier over at VentureBeat noted that a similar false story could be written that says Apple is acquiring Samsung, for instance. Stories on the Internet spread quickly, and it's not hard to see that an enterprising hacker might plant one like that and then watch a stock he or she owns and sell just before the story is debunked or denied. The whole process would take only a few hours, and such stock manipulation would be hard to prove.