Regrets? Rats Have a Few, Lament Missed Chances
New research suggests the animals know when they've passed up what would have been a good deal.
Courtesy of Rat Free Subways/TWU Local 100
January 11, 2011 - They are elusive. They squeal. And they eat almost anything, even each other. And because of all of that, public health officials have not developed any reliable way to curtail the rising population of rats. Add to that budget cuts and cities like New York City, become inundated with the rodents. Frustrated subway workers are drawing attention to their workplace rat problem by offering a free MetroCard to whoever snaps the picture of the nastiest rat in the subway. TWU Local 100, the Transport Workers Union, launched the site, Rat Free Subways in October, 2011, according to Jim Gannon, the union's director of communications.
Courtesy of Rat Free Subways/TWU Local 100
"There were fewer refuse pickups and the garbage was piling up in some stations," Gannon said. "And if you have a food source, you have rats." The Jamaica Center - Parsons/Archer subway station in Queens, New York has had an ongoing problem with rats, Gannon said. This rat above is feasting on some trash at the station.
Courtesy of Rat Free Subways/TWU Local 100
Besides getting signatures for a petition to the Metropolitan Transportation Authority (MTA) to adopt a system-wide "rat eradication initiative," the site offers riders a place to "feel some kind of ownership," Gannon said.
Courtesy of Rat Free Subways/TWU Local 100
The Rat Free Subways site also offers a share your "Rat Tale" section for subway riders to vent about their face to face rodent encounters. "Aggressive rats are bolder about coming onto the platforms, and have even been known to bite riders," according to the web site.
TheGoodfella's Twitter
This photo of a giant rat, was reportedly taken after it was discovered at a Foot Locker in the Bronx. Another huge rat was reportedly stabbed with a pitchfork in Brooklyn last year. That one was believed to be a Gambian pouched rat and may have once been a pet or descended from a pet.
Corbis
The subway workers efforts have paid off for the Parsons/Archer stop. The MTA added trash pickups for the spot, Gannon said. "There are health issues for the workers and for riders," Gannon said. "The subway transit is everywhere in the city. And if you have an exploding population of rats down there. They are going to come up and be everywhere." The Rat Free Subways contest ends January 15. Rats Help Their Friends Get Free

Just as humans lament not pursuing a lover or bemoan having eaten that extra slice of chocolate cake, rats may experience feelings of regret, too, new research suggests.
When rats were given the option of visiting rooms that contained different foods, and they skipped a good deal for a worse one, they glanced back at the former room, rushed through eating the snack and were more likely to tolerate longer wait times for what they considered the more desirable food , researchers found.
Furthermore, the rats' brain activity represented the missed opportunity, suggesting the animals were, in fact, experiencing regret over their choice. (7 Thoughts That Are Bad For You)
"The rat is representing the counterfactual — the 'what might have been,'" David Redish, a neuroscientist at the University of Minnesota in Minneapolis, and senior author of the study detailed today (June 8) in the journal Nature Neuroscience.
No other studies have shown convincingly that any animal besides humans experience regret, though some studies hinted it was possible, the researchers said.
How do you define regret? You can't exactly ask a rat if it feels regret, but even if you could, it wouldn't be proof, just as it can be difficult to tell if a human feels regret just by asking them.
It's important to distinguish between regret and disappointment, Redish told Live Science. Regret occurs when you make a mistake, but recognize there's an alternate action you could have taken that would have resulted in a better outcome, he said. Disappointment happens when "the world's just not as good as you hoped, but it's not necessarily your fault," he said.
To test whether rats could feel regret, Redish and his graduate student Adam Steiner designed a kind of "restaurant row" for the animals — a circular enclosure with pathways leading off it to "restaurants" with different kinds of food, which were dispensed after some delay.
As a rat passed each pathway, it heard a tone that told the animal how long it would have to wait for the food (like being told the wait time at a restaurant). Each rat had its own favorite food, such as banana or chocolate, and would wait longer to get it, Redish said. Each rat was given an hour to explore the enclosure, during which it could only move in one direction between restaurants.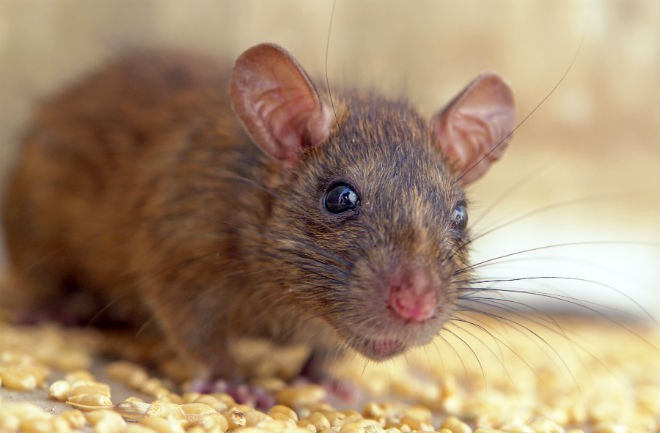 Corbis Images
If the rat passed up a good deal — for instance, bypassing a food it liked in favor of a shorter wait time — and encountered a worse deal at the next restaurant, it would glance backward at the one it passed up. Not only that, the rat rushed through eating its chosen food, much like a regretful human would, and was more likely to take a "worse deal" in the future, the researchers said.
But the rats' behavior was only part of the story. The researchers also made electrical recordings of the rats' brains during the task, from neurons in the orbitofrontal cortex, the part of the brain that is active in human brain scans when people feel regret. Decoding these signals allowed the researchers to "read the rat's mind," Redish said.
Surprisingly, when the rats were looking back at the restaurant they ultimately passed up, their brains showed a representation of entering that restaurant — not of the food they missed. The findings suggest the animals were expressing regret over their actions, rather than just disappointment, the researchers said.
If rats can feel regret, what about other animals? Redish speculates that any mammal might be capable of the feeling, because they have many of the same brain structures as rats and humans.
"Regret is something we think of as very human and very cognitive," Redish said, but "we're seeing that the rats are much more cognitive than we thought."
More from LiveScience:
5 Ways Your Emotions Influence Your World (and Vice Versa)

Top 10 Mysteries of the Mind

The 12 Weirdest Animal Discoveries
Copyright 2014 LiveScience, a TechMediaNetwork company. All rights reserved. This material may not be published, broadcast, rewritten or redistributed.