Rebooted Spacecraft to Tackle Interplanetary Science
A private team is priming a 36-year-old NASA spacecraft to perform new science as it travels through interplanetary space after attempts to move the probe into a position closer to Earth failed.
Mark Maxwell/ISEE-3 Reboot Project
An artist's depiction of NASA's International Sun-Earth Explorer 3 spacecraft as it flies by the moon on Aug. 10, 2014. The volunteer ISEE-3 Reboot Project hopes to use the 36-year-old probe for new interplanetary science.
NASA/JPL-Caltech
'Selfies' are all the rage these days. Every smartphone is attached with a camera and to the Internet, so it was inevitable that our vain species would take full advantage of the technology, snapping endless photos of cats and, of course, ourselves. Selfies -- or 'self portraits' to the uninitiated -- have become such a cultural phenomenon that Oxford University Press has declared 'Selfies' their word of the year. This may sound asinine, but Merriam-Webster Dictionary balanced it out
and declared 'Science'
their
word of 2013
. In the spirit of fairness, I've combined the two words of the year and applied them to robots. Yes, robots. Robots that explore space, doing science. And just in case you didn't know, robots can be pretty vain too, taking snapshots of their junk for the whole Internet to see. To narrow the field down a bit, I've only selected robots that have photographed parts of their own structure, or attached components. I've also allowed the occasional robotic camera that was deployed for the sole purpose of taking a selfie
(nice effort, IKAROS).
The first robot that likely comes to mind is the undisputed
King of Selfies
, NASA's Mars Science Laboratory rover Curiosity. The car-sized rover impressed the world with its selfie prowess when mission scientists released a stunning high-resolution mosaic of the rover in November 2012, only a couple of months after it landed inside Gale Crater. Curiosity achieved the feat by holding its Mars Hand Lens Imager (MAHLI) at (robotic) arm's length, taking a truly authentic "selfie." The world applauded this effort.
PHOTOS: Mars Through Curiosity's Powerful MAHLI Camera
NASA/JPL-Caltech
But Curiosity certainly wasn't the first robot on Mars to snap its own picture, and it won't be the last. Although the Viking landers that touched down on the Red Planet in 1976 didn't have robotic arm-mounted cameras capable of taking a "true" selfie, they did their best.
This view
from Viking 2 was snapped on Nov. 2, 1976, showing a part of the lander's deck, the American flag, the bottom of the robot's high-gain antenna and a boulder-littered Utopia Planitia, the largest identified impact crater on Mars.
Stunning.
PHOTOS: Alien Robots That Left Their Mark on Mars
NASA/JPL-Caltech
Staying on Mars, some amazing panoramic shots and top-down self portraits have been attained by NASA's epic twin Mars Exploration Rovers Spirit and Opportunity. As you've probably guessed, commanding a robot on another planet to take self portraits isn't for fun (even though the outcome
is
a lot of fun), it actually serves a purpose. In the case of Viking and Curiosity, engineers on Earth can study the photos to see the condition of instruments on the robots' 'decks.'
As shown here
, for solar powered rover Spirit, using its mast-mounted panoramic camera was very useful for capturing amazing 360 degree views of the surrounding terrain. It was also great for keeping track of the build-up of Martian dust on its panels. In this photo taken in 2005, Spirit's solar array shines in the sun, having collected only a very thin layer of dust two years after it landed.
NEWS: 9 Years Later: Remembering Mars Rover Spirit
NASA/JPL-Caltech
Spirit's twin rover Opportunity soldiers on to this day, exploring the Martian surface after nearly a decade since landing. Jan. 25, 2014, is its 10 year Mars "birthday" (mark your calendars!). Currently exploring the edge of Endeavour Crater, helping to piece together clues of Mars' evolution (complementing the science being done by Curiosity), Opportunity is no stranger to taking its own photo. As Spirit and Opportunity were designed to the same specifications, Opportunity can also take 360 degree views and monitor dust build-up on its solar panels.
Seen here
in 2011, its once shiny solar array is blanketed with a camouflaging coat of dust.
NEWS: Opportunity Finds More Hints of Mars Habitability
NASA/JPL-Caltech
Mars again?
Really?
No, robotic Mars explorers aren't especially fond of sefies, it's just that NASA has sent a lot of Mars surface missions in the past few years. Seen here in 2008, NASA's Mars arctic lander Phoenix took its own photo using a mast-mounted panoramic camera in a similar style to Spirit and Opportunity. It seems that the first rule of robotic selfies is: If it ain't broke, don't fix it.
PHOTOS: Phoenix Mars Lander's First Images
ESA
Now for something a little different. In 2007, the European comet-chasing spacecraft Rosetta made close approach with Mars, coming within 1,000 miles of the surface, using the planet for a fuel-saving gravity assist. The boost in speed is allowing Rosetta to catch up with comet 67P/Churyumov–Gerasimenko -- an encounter that is planned for 2014. But during the flyby, the spacecraft managed to snap this iconic photo of Mars from space. What makes
this view
so special is that Rosetta also caught its own solar array in the shot.
ANALYSIS: Advice to Rosetta: Maybe She's Just Not That Into You
NASA
Leaving Mars, we now head to Venus where, in 1982, the Soviet Venera 13 lander managed to survive the hellish conditions and transmit data for two hours. In that time it also returned some color photos of the Venusian surface. In those photos, the hardy lander was able to capture some of its jagged landing gear at the bottom of the shot. It may not be perfect, but while sitting in a pressure-cooker with a limited amount of time to return valuable data, it's a superb effort.
ANALYSIS: When the Veneras Challenged Venus' Hellish Atmosphere
JAXA
The Japanese Hayabusa asteroid sample return mission got a little creative with this selfie effort. In 2005, as it approached near-Earth asteroid Itokawa, with the sun at its back the mission snapped its shadow falling on the sunlit asteroid surface.
Thanks to
@AsteroidEnergy
for leading me to Hayabusa!
VIDEO: NASA Aircraft Videos Hayabusa Re-Entry
JAXA
In 2010, the Japanese space agency JAXA launched a pioneering mission. Using only the sun's energy for propulsion, the Interplanetary Kite-craft Accelerated by Radiation Of the Sun, or IKAROS, probe set sail through interplanetary space for a January 2011 rendezvous with the planet Venus. After the solar sail was launched, two miniature wireless cameras were ejected by IKAROS as it deployed in Earth orbit,
returning this admirable "hands free" self portrait
. Then, as IKAROS reached its destination eight months later, it took a snapshot of a crescent Venus (inset). (Thank you
Emily Lakdawalla
for reminding me about these stunning IKAROS photos!)
Special thanks to all my Twitter buddies who engaged in Wednesday evening's conversation about robot selfies!
Can you think of more space mission "selfies"? Feel free to share them in the comments below.

A private team is priming a 36-year-old NASA spacecraft to perform new science as it travels through interplanetary space after attempts to move the probe into a position closer to Earth failed.
The volunteer team initially hoped to park the vintage International Sun-Earth Explorer 3 spacecraft, called ISEE-3 for short, in a stable location between the Earth and the sun called L-1. But those attempts ended when controllers discovered there wasn't enough nitrogen pressurant left in the probe's tanks to help make course corrections.
NEWS: Contact Made With 36-Year-Old 'Retired' Satellite
"We're disappointed we couldn't put it in the L-1 orbit, but we had a lot of scientists saying we're more interested in interplanetary space," Keith Cowing, co-leader of the ISEE-3 Reboot Project, told Space.com.
That's because at least five of the 13 instruments on the ISEE-3 spacecraft are still working, even after more than three decades in space. They could allow scientists to do things such as listen for gamma-ray bursts, which are the brightest explosions in the universe and often take place over just a few minutes.
Pinpointing the source of gamma-ray bursts requires a coordinated effort among several observatories, so having one more probe in space "listening" will be valuable, Cowing said.
Building a Global Network
Getting data quickly, however, will in part depend on the number of radio antennas on Earth listening to the signal from ISEE-3. Cowing said there is good coverage in the United States in Europe, but coverage is missing in two-thirds of the globe, in areas such as Africa, Australia and Japan.
PHOTOS: Satellite 'Flock' Launched From ISS Cubesat Cannon
The ISEE-3 Reboot Project plans to turn to crowdsourcing to ask for citizen scientists to set up radio dishes to listen in. The information ISEE-3 yields will be open source and perhaps the first such global citizen radio science project, Cowing said. After all, it was crowdfunding on the website RocketHub that allowed the group to raise $160,000 for its initial attempts to salvage the abandoned ISEE-3 spacecraft in the first place.
NASA's ISEE-3 spacecraft originally launched in 1978 to study interactions between the Earth's magnetic field and the solar wind, then had its mandate changed to see how the wind influences comet atmospheres. It flew through Comet Giacobini-Zinner in 1985 and also gathered data on Halley's Comet in 1986 before being put into hibernation in 1998.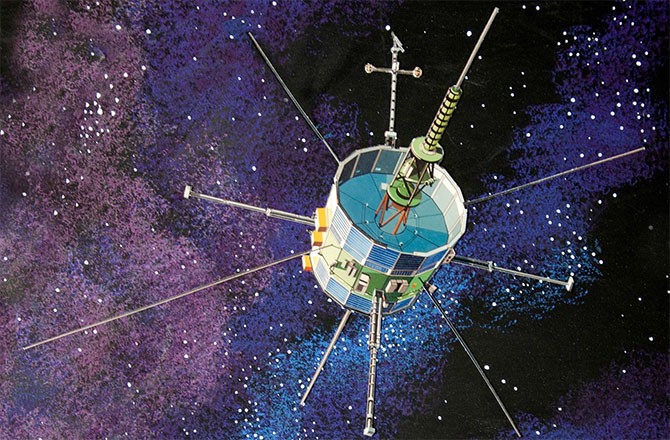 Artist rendition of the International Sun-Earth Explorer-3 (ISEE-3), which became the Interplanetary Cometary Explorer.NASA
Cowing pledged the data will be "semi-live," depending on how much processing it will take for the data to be useable after being picked up by the dish. Already, the spacecraft's magnetometer has picked up disturbances in space that can be linked back to solar activity.
The science campaign is slated to begin Aug. 10, when ISEE-3 swings by the moon, and will continue for as much of its orbit as can be heard from Earth. ISEE-3 will travel in a 300-day orbit around the sun, but the final coordinates are still being determined.
PHOTOS: Top 10 Space Robot 'Selfies'
Cowing added that the group will publicize the results of the science with external entities, and those partnerships will be announced shortly.
Funding a Volunteer Space Mission
As for the $160,000 raised through RocketHub, Cowing said it's just about gone. The money went to renting time on NASA's Deep Space Network of dishes, flying four people to the giant Arecibo Observatory in Puerto Rico for a week to set up communications, and other miscellaneous costs.
NEWS: Satellite Swarm Maps Earth's Magnetic Field
There are perhaps a couple of more transmission sessions set up to talk with ISEE-3 to configure it for science, then the group will switch to more listening to keep costs lower. The group has authorization from NASA under a Space Act Agreement to do communications, which Cowing expects will be kept open as need arises.
But it's the citizen science that will be the focus from now, which Cowing said will allow others to have more "hands-on" participation in space exploration. "That potential is actually the most important thing to result from this," he said, adding he expects to operate the spacecraft for at least five to 10 years if all of its systems stay healthy.
More from SPACE.com:
NASA's 10 Greatest Science Missions

Solar System Explored: Today's Deep-Space Spacecraft (Gallery)

Gamma Ray 'Christmas Burst' Star Found? | Video