Ranger Dies During Rescue On Rainier
A ranger with Mount Rainier National Park died while rescuing climbers who had fallen into a crevasse.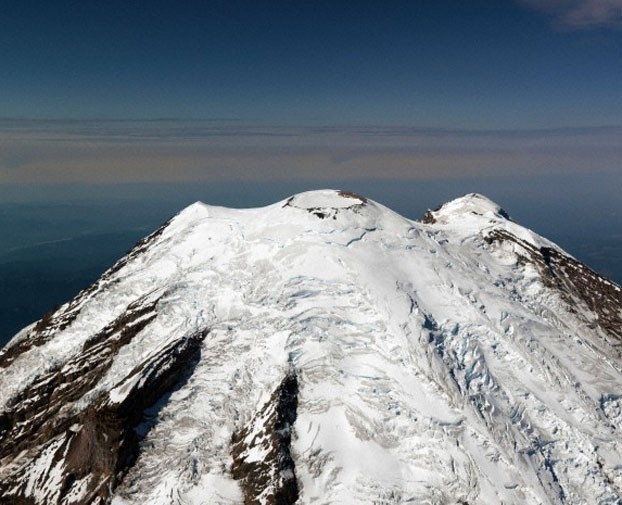 A park ranger died during a rescue yesterday on Mt. Rainier, a 14,410-foot glacier-coated volcano in Washington State that attracts thousands of climbers each year.
Ranger Nick Hall, 34, fell from 13,700 feet off the mountain's northeast face while helping distressed climbers get ready for a helicopter rescue yesterday afternoon, according to the National Park Service.
NEWS: Coffee Cup Alerts Mount Rainier Campers
The climbing party of four had successfully made it to the summit of the mountain, which is considered technical but generally safe for climbers who know what they're doing. On the way down, two of the climbers fell into a crevasse on the Emmons Glacier. A third called for help with a cell phone.
During the evacuation of the first climber just before 5 p.m., Hall slid more than 3,000 feet down the side of the mountain. Rangers reached his body several hours later. Investigations are ongoing.
Hall has worked on the mountain for four years. His death comes just months after a New Year's Day shooting that killed Ranger Margaret Anderson in the same park.
Three of the four members of the climbing party were airlifted to safety yesterday. The fourth spent the night on the mountain with rangers, waiting for better weather. Snow was falling above 10,000 feet, slowing attempts to recover Hall's body.
PHOTOS: Eating In An Emergency
Hall's family, who lives in Maine, told the Associated Press that they were grieving his death and celebrating his life.
"We sincerely hope," said his father Carter Hall, that "the loss of our son will draw appropriate attention to the hazards and safety requirements and commitment to be involved in the profession and sport he so loved."
Photo: The Top of Mount Rainier Credit: Corbis