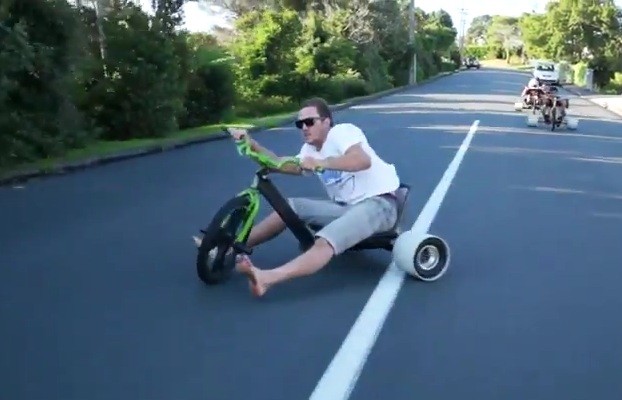 No helmet, no shoes. Image via YouTube screenshot.
One more reason to visit New Zealand- they make tricycle riding incredibly bad-ass. This video, "Trike Drifting," films the exploits of a crew of Kiwis as they race downhill on modified three-wheelers. They spin and weave through traffic, coming close enough to moving cars to give any concerned parent a heart attack on the spot. Not to mention that only one rider wears a helmet, and one doesn't even wear shoes!
The video is the work of Devin Graham, who's behind the jaw-dripping rope swing video we featured a little while back, and Lindsey Stirling, who's also a hip hop violinist. Filming took just three hours. Graham's approach is pretty minimal; he calls it "guerrilla film making." He uses a camera and a glide cam to keep the shots steady- no lights, no preparation, no permits.