Racer Plans To Cross Atlantic In Electric Plane
This speed demon wants to retrace Charles Lindbergh's flight in a custom electric aircraft. Continue reading →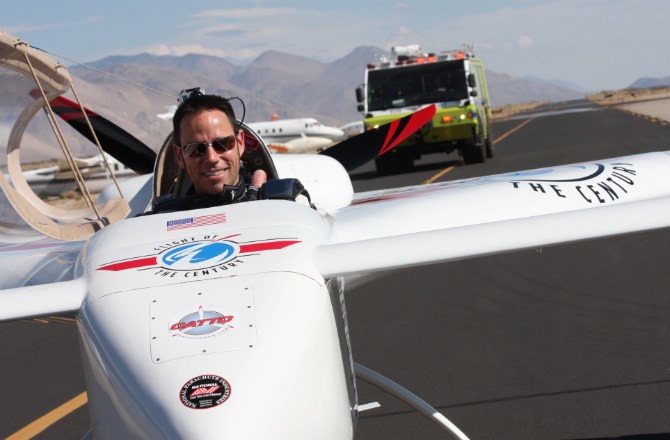 Electric vehicle racing aficionados know Chip Yates as a competitor to beat both on the motorcycle track and in the air. Now the speed demon is planning to make history anew by tracing Charles Lindbergh's 1927 trans-Atlantic flight — in an electric airplane.
Top 10 Fastest Electric Vehicles
I first came across Yates while pulling together a feature on record-breaking electric vehicles. In 2011 he set an unofficial electric racing motorcycle record, going 190.6 miles per hour in the Mohave Mile. And last year he got a pilot's license and shot over the Mohave Desert in an electric Long-ESA, a modified version of Burt Rutan's custom Long-EZ aircraft. His at 202.6 mph record creamed the previous 175 mph one.
Now Yates told Wired's Jason Paur that he has his sights set on repeating Lindbergh's historic flight from New York to Paris in a glider-like electric plane with a 100-foot wingspan. He's still building it, though. Unlike the Solar Impulse and its 31 mph average speed, Yates wants to be going at least 100 mph.
World's Fastest Electric Plane Breaks 200 MPH Barrier
In order to increase the electric plane's range, Yates said he's going to attach a battery pack to the plane and have new ones get attached mid-air along the route, similar to the aerial refueling technique military planes use. Last year part of his battery pack ruptured during the desert flight tests. Yates and his team will spend the next few months doing more construction and systems testing.
"I hope he stays alive," Charles Lindbergh's grandson Erik told Wired. Me, too. If Yates can pull this off, he'll be proving that electric airplanes aren't just some novelty, that they're capable of going the distance with plenty of speed to boot.
Photo: Electric speed demon Chip Yates set a record for fastest electric plane last year. Credit: Flight of the Century.