Quarantines: Why They Don't Work Well
Even in the face of a disease like Ebola, people value freedom and convenience over the public good.
The centuries-old practice of quarantine -- keeping potentially infected people locked up or at home -- is currently bumping up against Americans love of personal freedom and convenience. A TV reporter just back from Liberia decided not to follow voluntary quarantine guidelines, spreading widespread panic and possibly the killer virus itself.
In the wake of the incidents, officials at the Centers for Disease Control are vowing to give local health officials better guidelines about who should remain home. But so far, quarantines have relied on the good faith of a few individuals rather than police officers tossing people in jail.
"We need to start using quarantine orders, at least for the near term, so people are under the legal obligation to obey," said Mark Rothstein, director of the University of Louisville's Institute for Bioethics, Health Policy and Law. "Quarantine is a scary word and the authorities are saying these people need to be monitored. If these people felt it was OK to travel or to go out and get dinner, something is missing."
Rothstein has studied recent quarantines, including the outbreak of Severe Acute Respiratory Syndrome (SARS) in 2004. He says that there are alternatives to quarantines, but sometimes the real deal is necessary.
"Quarantine is used because we don't have anything else to use that is better," he said.
In some cases, quarantines go too far. In Taiwan, for example, authorities quarantined 130,000 people when only 12 showed symptoms of SARS. Last month, the Liberian army tried to quarantine a slum area of the capital Monrovia, but residents rioted and the troops were forced to pull back.
"A quarantine is more than an inconvenience and an economic disruption," Rothstein said. "It causes panic."
Here in the United States, NBC's Chief Medical Correspondent Nancy Snyderman decided to leave her New Jersey home and have dinner at a nearby mall last Friday. Her cameraman contracted Ebola while on assignment in Liberia and is recovering at a hospital in Nebraska. Snyderman apologized, but her actions outraged many local residents.
And in northeast Ohio, one person has been quarantined, and six others have quarantined and are monitoring themselves for Ebola, after coming into contact or being in the vicinity of Ebola-stricken Texas nurse Amber Vinson, according to CNN. Several Texas and Ohio schools are closed as a precaution against exposing faculty and students.
Vinson traveled from Dallas to Cleveland after having reported to the CDC that she had a slight fever, and even though she was under voluntary quarantine. She now has the disease and is being treated at Emory University Hospital in Atlanta.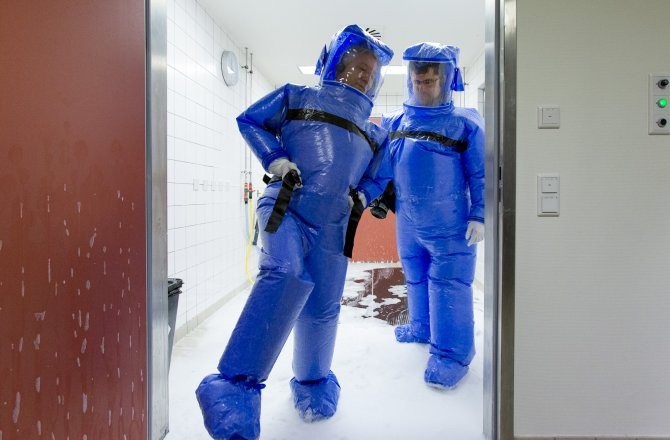 Doctor for tropical medicine Florian Steiner (R) and ward physician Thomas Klotzkowski step out of a disinfection chamber after cleaning their protective suits, at the quarantine station for patients with infectious diseases at the Charite hospital in Berlin, Germany.Corbis
U.S. officials have locked up some disease carriers in the past. Perhaps the most famous was "Typhoid" Mary Mallon, a New York cook who was charged with spreading the disease and was locked up from 1907 to 1910, and again from 1915 to her death in 1938. More recently, New York officials locked up 200 drug-resistant tuberculosis patients who refused treatment in the 1990s.
Federal officials can impose a mandatory quarantine on suspected carriers of cholera, diphtheria, infectious tuberculosis, plague, smallpox, yellow fever, and viral hemorrhagic fevers (such as Ebola and Marburg), according to the CDC website. A presidential executive order from last spring added new types of pandemic flus to the list.
One expert says the CDC may have to rethink the length of the current Ebola quarantine of 21 days because the incubation period may last longer in some patients. Charles Haas, professor of environmental engineering at Drexel University, recently published a study in the online journal PLOS One that found that up to 12 percent of Ebola patients may come down with the disease after three weeks has passed.
He based his findings on current and former Ebola outbreaks in Africa.
"Twelve percent is a lot," Haas said. (The 21-day period) is not providing an absolute assurance, he said. "But any time interval is going to be a balancing test between protecting public health, the cost of enforcing it and civil liberties interests."
To keep people at home, some people under quarantine may be forced to wear electronic ankle bracelets to monitor their movements, just like criminals under house arrest.
At the same time, voluntary compliance may be higher if people were guaranteed that they wouldn't lose their job if they have to stay home for three weeks or more. Only 10 states have laws preventing employers from firing workers who miss work because of a forced quarantine.
Despite the bad judgment by the nurse, the CDC and the journalist, one expert believes it's unlikely that the breaches of voluntary quarantines will result in new cases of Ebola.
"I get why people are scared," said Bill Hanage, associate professor of epidemiology at the Harvard School of Public Health. "But Ebola is so hard to transmit."