Illustration by Mike Dillard
The aircraft carrier USS Gerald R. Ford cost nearly $13 billion to build.
Business Wire
Mystery barges, floating cities, mind-controlled cars and Bitcoin ATMs are just a handful of the latest technology to surface this week.
The New York City Council officially approved plans for the Empire Outlets and the New York Wheel, a 630-foot-tall ride and tourist attraction that will finally put Staten Island on the map. Groundbreaking will take place in 2014.
Laboratoire de Photophysique et Photochimie Supramoléculaire et Macromoléculaire, in Paris, and Crime Scene Technology
A new product called Lumicyano reveals fingerprints faster and cheaper than existing techniques. The fingerprint powder is made from a chemical compound and a dye considered the smallest fluorescent colorants known to date. As opposed to waiting two days for results, this technique gives results instantly when dusted and then shined with a UV lamp. Additionally, any DNA in those prints remains unharmed.
Video screengrab, Tom Bell, Portland Press Herald
Two mystery barges have shown up in the harbors of San Francisco and Portland, ME. They belong to Google, but the company won't divulge what the vessels, which are made from stacked shipping containers, are for. Speculations and rumors abound. Some say the barges might be floating data centers or floating retail stores for Google Glass or floating VIP party boats. No is certain and only time will tell.
+ Phil Pauley
London designer Phil Pauley has reimagined the home of the future, where sea levels have risen and land is scarce. His Sub-Biosphere 2 is comprised of a Central Support Biome surrounded by eight spherical Living Biomes. According to Pauley's website, the biome would contain life support systems for air, water, food, electricity and "other resources through its innovative control of variant atmospheric pressures that occur at depth."
Christopher Morris/Corbis
The world's first Bitcoin ATM, owned by the company Bitcoiniacs, went live inside a downtown Vancouver coffee shop. Bitcoin is a distributed peer-to-peer digital currency that functions without the intermediation of any government or central authority.
Dezeen
Alejo Bernal, a recent graduate of Design Academy Eindhoven, has developed a toy car that can be driven forward with thought. He designed it to improve concentration skills. The user controls it wearing NeuroSky EEG headset and then focusing for several seconds on the car. He knows if he's concentrating correctly because the vehicle lights up to indicate neuronal activity and then drives forward.
StarChase
New technology could reduce cop car chases. The "Starchase" projectile is a GPS-equipped bullet that is launched from a squad car's grille and controlled from a console inside the cab. Once shot, the device sticks to the perpetrator's car and then sends real-time GPS coordinates to a law-enforcement computer or phone, allowing the police to track the offender without engaging in a high-speed chase.
Laboratory of Intelligent Systems
The GimBall robot, created by roboticists at the École Polytechnique Fédérale in Lausanne, Switzerland, is a quadrotor encased in a spherical, flexible cage that protects its innards. Inspired by flies that simply bounce off walls or windows and then continue their flight, this robot needs no sensors to view its flight path. It merely follows its direction to get from point A to B, and if it collides with an obstacle along the way, it simply bounces off and continues flying.
Stephen Hicks
A pair of smart glasses could help visually impaired people see. The glasses have two small cameras that capture two different images, just as human eyes do. A computer transfers the images to transparent LED displays on the lenses, so the wearer can see an enhanced image. The cameras also read text from road signs, send it to the computer, which then converts it into speech and plays it through a set of headphones.
YOSHIKAZU TSUNO/AFP/Getty Images
The Neurocam and its accompanying app use EEG sensors to measure brainwave activity and look for spikes. When one is measured, the app assumes the wearer is interested in what she is seeing and that cues the phone's camera to start recording a video. Footage is recorded as five-second GIFs, which are then stored in an album so users can remember what exactly struck their interest.

The Navy's newest aircraft carrier -- the USS Gerald R. Ford -- gets christened Saturday in Norfolk, Va., with the traditional bottle of champagne being smashed open on its massive hull to bring good luck.
With an estimated price tag of $12.8 billion, the Ford is the most expensive piece of military hardware in history. As such, it boasts an array of dazzling military technologies -- from electromagnetic aircraft launchers to a new kind of dual-band radar -- that the Pentagon says is needed to keep the aircraft carrier relevant in future wars.
When commissioned in 2016, the ship will have 500 fewer sailors than existing carriers, while generating three times more electrical power and the ability to launch more than 160 aircraft each day.
But all this technology has a steep price tag, and Navy officials have drawn fire from Congressional budget watchdogs for allowing the cost of the ship to balloon 22 percent over budget.
"The construction cost went way over budget because of new technologies they introduced at the same time," said Bryan Clark, a senior fellow at the Center for Strategic and Budgetary Assessments and a former special assistant to the Chief of Naval Operations. "Normally you try to take an evolutionary approach, of bringing in new things one at a time. With the Ford class they took a revolutionary approach, where they bring in a lot of technologies simultaneously."
Even though the ship is expensive, Navy officials say that it will save money over the long run because it has been designed more efficiently. The ship relies on two nuclear powered generators and won't have to come in to dry dock for 12 years.
There are one-third fewer valves, resulting in less maintenance and a new air conditioning and filtration system that should keep remove salty sea air from the ship's innards. A reverse-osmosis desalinization plant provides water and a high-temperature plasma arc waste system converts 6,800 tons of waste a day into gaseous emissions.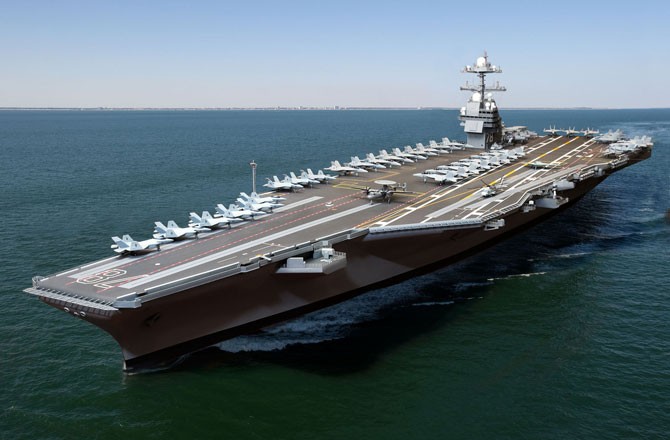 The aircraft carrier Illustration by Mike Dillard
Navy officials say efficiency in energy, waste and reduced manpower will save $4 billion over the 40-year life of the ship. But is a hugely expensive and highly-complex aircraft carrier still relevant?
"Even in smaller conflicts, it has the ability to bring persistent combat power," said Adm. Thomas Moore, head of the Navy's executive office for aircraft carriers. "In this era of reduced basing rights throughout the world, and where we don't have the luxury of having a landing field, the aircraft carrier provides that capability."
The ship's dual-band radar integrates two radars operating on different frequency bands to provide air traffic control, ship self-defense and other capabilities.
It also has a new anti-missile system and an aircraft launching system that uses electromagnetic runners similar to those found on roller coasters that will result in a smoother takeoff for both pilot and plane.
Moore says the new Ford class of carrier will also have the ability to operate the Navy's new laser weapon system that is being tested on another ship next year, as well as using long-range fighters and reconnaissance drones that can keep the carrier further away from a potential enemy's reach.
The carrier's war-fighting and humanitarian-relief capabilities, however, have run up against the constraints of a Pentagon budget that is no longer a bottomless pit of money.
"The nation is going to have to think about how many carriers will the Navy need," said CSBA's Clark. "There's a reckoning that's going to have to be done between fiscal constraints and what we expect military to do. Were not in a sustainable position right now."