Please Touch: Still Life Painting Is Interactive
This painting looks like a simple still life, but turn the frame and the whole thing changes.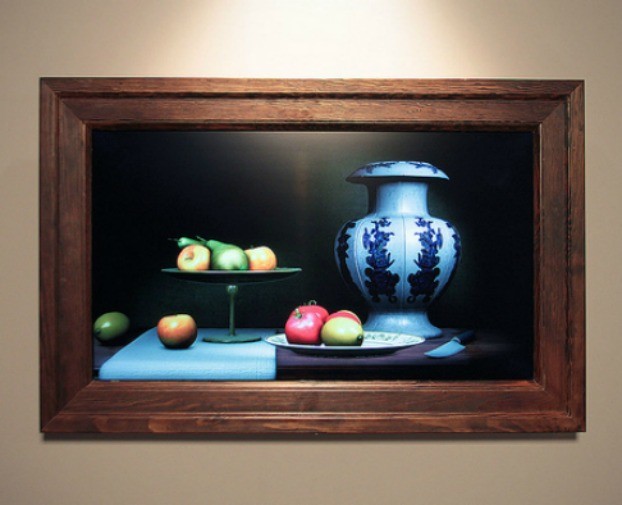 This painting may look like a run-of-the-mill still life, but it contains a high-tech secret. It's actually an interactive installation from Seattle-based artist Scott Gardner. At first glance, his piece, called "Still Life," seems like just that: a vase, plates, and of course a bunch of fruit all set in a substantial wooden frame. But this is no painting. When a visitor grabs the frame's edge and tips the whole thing, all the objects inside tumble around realistically.
As Gardner explains on his site, this work of art is actually a custom-framed television placed on a rotating mount. Simple software takes data from a spatial sensor attached to the TV and feeds it to a 3D scene containing the objects. Gardner used the interactive game development tool 3D Unity for the scene.
"The scene itself consists of a camera tied to the sensor data with all lights and objects parented to it so they rotate in unison," he wrote. This Vimeo video shows "Still Life" coming alive:
LA Times blogger Deborah Netburn pointed out that iPad applications such as Atomic Antelope's "Alice in Wonderland" and "The Fantastic Flying Books of Mr. Morris Lessmore" can create similar effects, sending objects all over the place. But those apps bring books to life, not paintings.
A life-sized interactive painting strikes me as more impressive than an iPad app. Gardner's nerdy and cool artwork was produced at the live action production company Süperfad, best known for making commercials. No word on where the public will be invited to play with it yet, but I think M.C. Escher would have enjoyed this one. Imagine what he could have done with interactive tech.