Steven Coates. Used with permission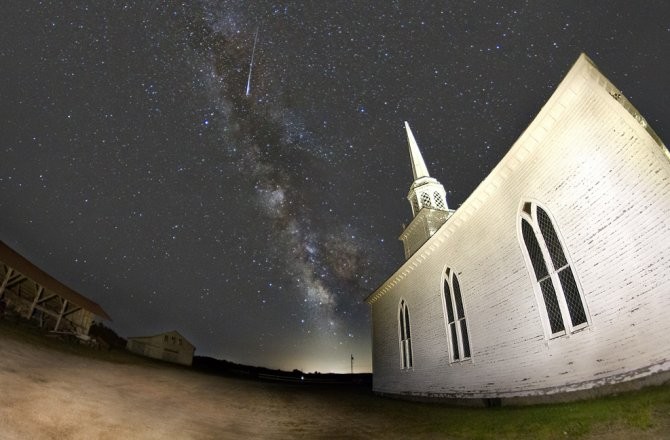 An early Perseid over a church at the Washburn-Norlands Historical Center in Livermore, Maine.Steven Coates. Used with permission
In these stunning photographs, astrophotographer Steven Coates captured two early Perseid meteors flash through the skies over Livermore, Maine, on Aug. 5. Since then, the meteor shower has grown in intensity and we are currently in the middle of the Perseids' peak.
VIDEO: Perseid Meteor Shower: How to Catch the Show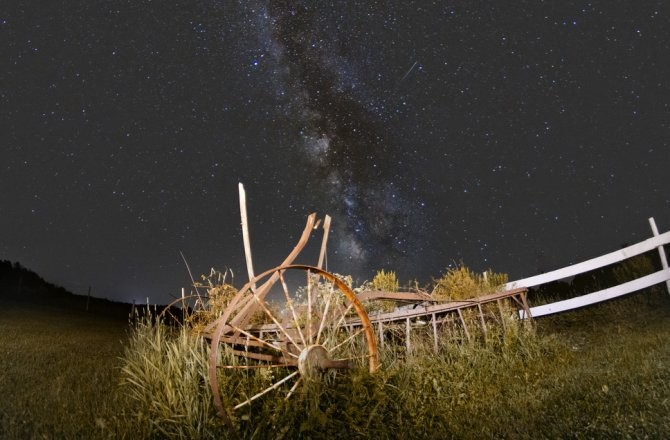 An early Perseid over a wagon at the Washburn-Norlands Historical Center in Livermore, Maine.Steven Coates. Used with permission
Every year at approximately this time, the Earth orbits through the dusty debris of Comet Swift-Tuttle. The cloud of dust particles were blasted into space from the comet's nucleus during its 133 year-long orbit of the sun.
So, every year, we can expect these tiny particles to slam into the Earth's upper atmosphere at 60 times the speed of the fastest bullet, creating a bright flash of ionization in atmospheric gases. These streaks are the meteors (or "shooting stars") you may be lucky enough to see on the ground.