Perception Triumph Kayak Delivers Performance and Stability for Fishing, Camping, Diving, or Just a Day Paddle
If you're looking for the perfect sit-on-top kayak for fishing, diving, camping, or just a weekend paddle in the surf or lake -- without having to sacrifice performance -- check out the new Triumph 13.0 from Perception. I tested the Triumph in the waves off Fort Lauderdale beach and along the relatively calm waters and [...]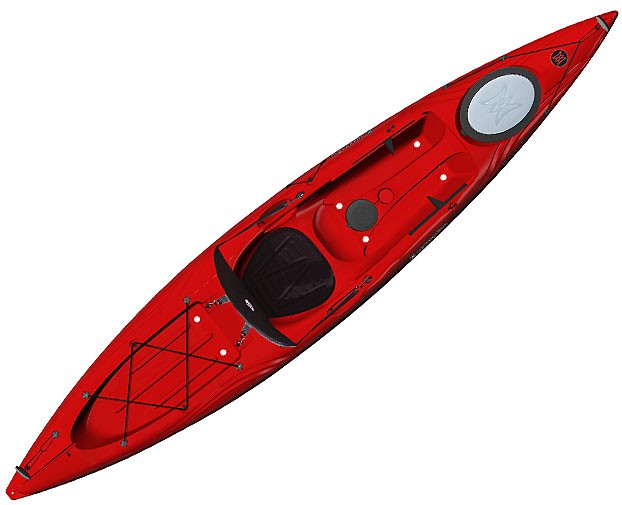 The Perception Triumph 13.0 is perfect for fishing, diving, camping or just a relaxed day paddle (Photos: Perception Kayaks)
If you're looking for the perfect sit-on-top kayak for fishing, diving, camping, or just a weekend paddle in the surf or lake — without having to sacrifice performance — check out the new Triumph 13.0 from Perception.
I tested the Triumph in the waves off Fort Lauderdale beach and along the relatively calm waters and canals of the Intracoastal Waterway (and even in my pool to test out how tightly I could get it to turn), and I was impressed with everything about this boat.
The first thing I noticed was the stability of the Triumph. Divers will love the ease of climbing back on after a dive, and fishermen will appreciate being able to lean over to net a hooked fish without worrying about falling in with their catch.
But the real plus on the Triumph's side is the performance. Perception gave it a touring inspired hull that makes it faster and easier to paddle than other sit-on-tops on the market. And the flared bow helps to direct water away and lift the bow over waves, making it a cinch to cross the surf line into open water. I own a 13-foot Perception sit-inside, an older model with a lot of paddle time on its clock, and this new 13′ 5″ Triumph is much easier to control and maneuver, even though I'm riding on top and it tips the scales at a solid 58 lbs. And like I mentioned earlier, I was able to turn on a dime in my pool with it.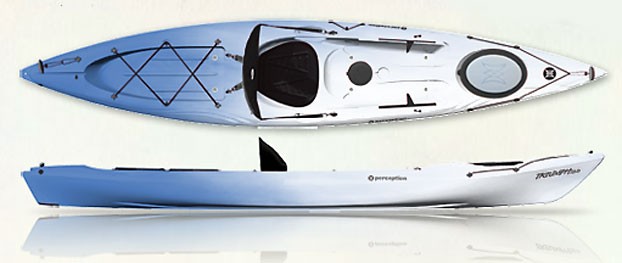 The Triumph comes with plenty of storage for gear and supplies
Great for casual touring as well as for fishing and diving, the rudder-ready Triumph also comes with an assortment of extras to make the day's paddle more enjoyable. There's a molded-in cup holder (who paddles without a drink?), a molded-in child's seat for bringing the kid along for a day of fishing, adjustable foot braces, bow and center hatches with rubber caps, a tankwell with bungee for gear, ample flat locations for fishing rods, and self bailing scuppers to keep the water out.
Overall, if you're in the market for one kayak, and it has to get you from surf to lake, from fishing and diving to a relaxed day paddle, the Triumph 13.0 is the one that can do it all.
MSRP: $799
The Triumph comes in five colors: Red, Yellow, Sand, Blue/White and Green/White.