Penguin Cam Gets Up Close and Personal
One of the world's only successful emperor penguin breeding colonies is now visible all day and live.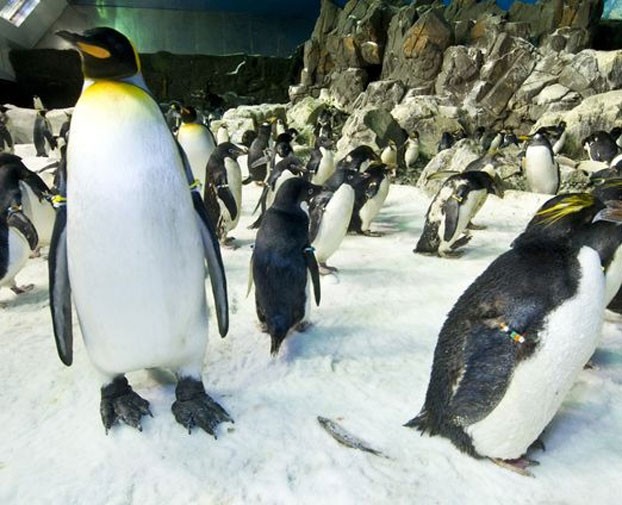 One of the world's only successful emperor penguin breeding colonies outside the Antarctic, along with other penguins, is now visible to Internet surfers via a new live online experience called "Penguin Cam."
Discovery Channel and SeaWorld San Diego just launched the cam. Its live feed will be available on the FROZEN PLANET fansite, on SeaWorld's website, and on USTREAM from March 1 until April 30, 2012.
"SeaWorld San Diego's Penguin Encounter features nearly 300 penguins representing five Antarctic and sub-Antarctic species (gentoo, Adélie, macaroni, king and emperor)," David Koontz, a spokesperson at SeaWorld San Diego, told Discovery News. "Guests get a close-up look at these delightful animals as they swim and waddle in the 25-degree, snow-filled habitat."
He added, "Warm-weather (temperate climate) Magellanic penguins, native to South America, live in (an) exhibit outside the Penguin Encounter."
Koontz himself is mesmerized by the Penguin Encounter exhibit and the cam, which he said are "intoxicating."
I agree.
Whenver I visit the cam, the penguins always seem to be in a flurry of activity. These are not boring birds! Two handsome fellows were in the forefront vigorously preening. Another was just literally chilling out in an icy-looking structure. Still others were grouped together in the back, flapping and appearing to have a good time. A frozen dead fish at the front looked to have been tossed around by numerous residents.
Beginning on March 19, Discovery Channel will host a weekly chat with a SeaWorld animal expert, with questions coming from the live online audience. At other times, you can also witness daily penguin feedings, SeaWorld educator presentations and more. You'll have opportunities to learn about each of the species featured. You can also admire the new Adélie chicks that just joined the Encounter.
The TV series Frozen Planet debuts on the Discovery Channel March 18 at 8 PM ET.
To check out the Penguin Cam, visit this page.