Paris Motor Show: Porsche Panamera Sport Turismo Hybrid Concept Revealed
Porsche is providing a preview of its next Panamera with the Porsche Panamera Sport Turismo concept that is debuting this week at the 2012 Paris Motor Show. In addition to giving us our first look at the design of the next Panamera, the Porsche Panamera Sport Turismo also previews Porsche's new plug-in hybrid powertrain. The [...]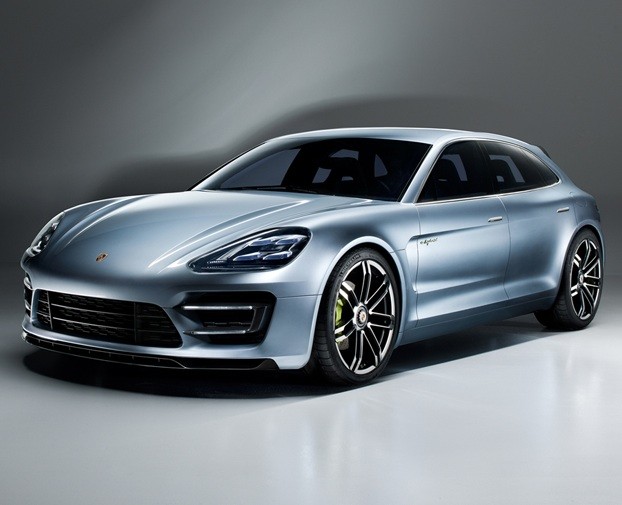 Photo: Porsche
Porsche is providing a preview of its next Panamera with the Porsche Panamera Sport Turismo concept that is debuting this week at the 2012 Paris Motor Show. In addition to giving us our first look at the design of the next Panamera, the Porsche Panamera Sport Turismo also previews Porsche's new plug-in hybrid powertrain.
The Porsche Panamera Sport Turismo concept is a new shooting brake version of the Panamera Porsche sedan, which simply means a new wagon version. If the concept ever makes it to production it will go head to head with other shooting brake models like the Mercedes-Benz CLS Shooting Brake and the Jaguar XF Sportbrake. From the front the face looks very similar to the current Panamera sedan, but is a bit more squared off.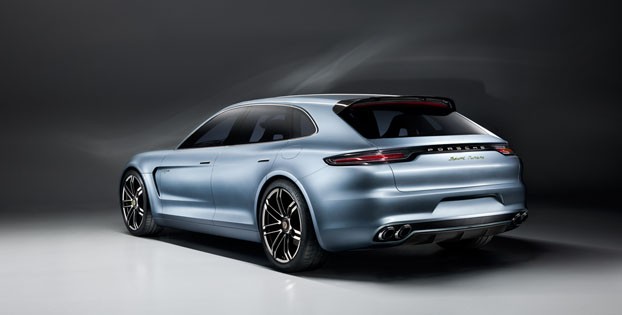 Photo: Porsche
The rear of the Panamera Sport Turismo concept looks closer to the new 911 than the current Panamera. The rear lights in LED technology and the taillight panel with the "Porsche" badge are sculpted in three dimensions, and the brake light is positioned between the four-point LED rear lights. Forming the roof termination is an adaptive carbon rear spoiler that produces improved downforce.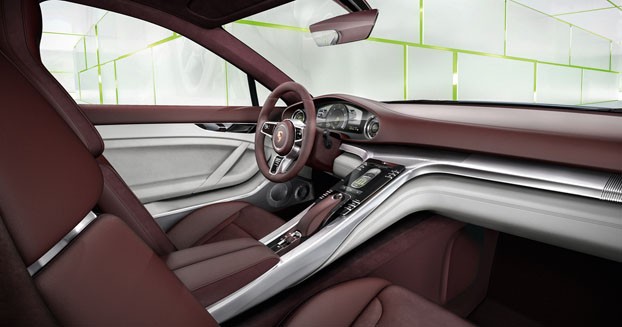 Photo: Porsche
The Panamera Sport Turismo concept gets "e-hybrid" badges on the exterior to make sure you know that the concept is powered by Porsche's new plug-in hybrid system. The concept vehicle with its 416 hp of peak system power is designed to be driven in pure electric mode up to a speed of 80 mph and can cover distances of over 19 miles in EV mode. The Sport Turismo also exhibits impressive fuel economy with its combined fuel consumption is less than 3.5 liters per 100 km or 67.2 mpg US on the European cycle.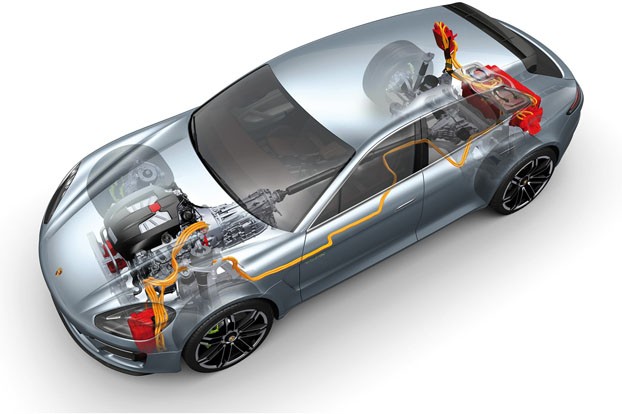 Photo: Porsche
The drive system of the Panamera Sport Turismo is an evolution of the full hybrid system that Porsche already uses in the Panamera S Hybrid and Cayenne S Hybrid. The new electric motor produces about 95 hp, which is around twice as much as in today's Porsche hybrid drive, while the 3.0L V6 supercharged engine produces 333 hp. The system can accelerate the concept car from 0-62 mph in less than six seconds.