Paris Metro Station Could Turn Into A Nightclub
A politician envisions transforming abandoned Metro stations into everything from public pools to underground parks. Continue reading →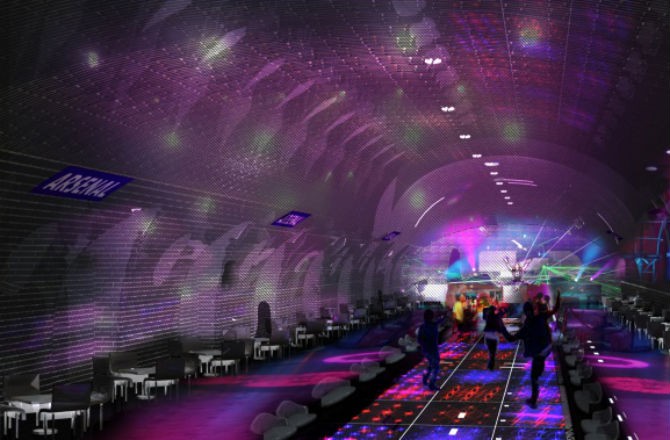 Paris is home to about a dozen "phantom" Metro stations that have gone unused for years. Now a brazen plan to transform them into eye-catching gathering places is afoot.
Gorgeous Computer-Generated Flowers Bloom: Photos
The idea to breathe life into the old subway stations was proposed by politician Nathalie Kosciusko-Morizet, who is running for mayor of Paris this year. She envisions transforming them into "convivial spaces" and asked local architect Manal Rachdi and urban planner Nicolas Laisné for designs.
The duo came up with a bunch of slick renderings for a performing arts space, a public pool, an art gallery, a restaurant, a nightclub and an underground garden. There are nearly a dozen phantom stations in the city, some of which were closed during World War II to save money, Slate's Kristin Hohenadel reported. Previously, two were repurposed into a day shelter for the homeless and a filming site.
The RATP, Paris' public transportation operator, has identified seven stations that would be suitable candidates for renovation but achieving that won't be easy. Le Parisien threw a wet blanket at Kosciusko-Morizet, calling her plan "dangerous." The paper quoted an RATP official who said it would be expensive and complicated because the stations have narrow platforms, electrified tracks and some lack street access.
Matchmaking Heart Sculpture Comes To New York
Although I recognize the enormous challenges, those stations are just sitting idle. Two stations have already been reworked so we know it's not impossible. But any grand ideas involving the Metro will have to wait. Kosciusko-Morizet is in a heated mayoral race against deputy mayor Anne Hidalgo. The outcome will be decided at the end of March, above ground.
Image: Manal Rachdi and Nicolas Laisné's rendering for a nightclub in an abandoned Metro station. Credit: Oxo Architectes.