Painless Syringe Design Employs Two Needles
Hate needles? You're not alone. One U.K. doctor says he has come up with a solution. Oliver Blackwell's syringe contraption actually uses two needles. A smaller one injects a little local anesthetic. By the time the second needle is at work, the prick should be painless. The first injection is "like a fly landing on [...]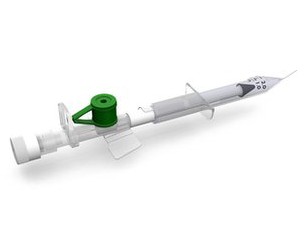 Image: BBC
Hate needles?
You're not alone. One U.K. doctor says he has come up with a solution. Oliver Blackwell's syringe contraption actually uses two needles. A smaller one injects a little local anesthetic. By the time the second needle is at work, the prick should be painless.
The first injection is "like a fly landing on your palm", Blackwell told the BBC. He says the needle could be used in millions of procedures. Since both needles are contained in one device, the risk of contamination or confusion is reduced, he adds.
"At the moment, if they want to use a local anaesthetic they have to use two needles, find keys and go to the medicine cupboard separately and it all takes time and effort," Blackwell says.