"Pachyderm Picasso" Fetches $2,000 Per Painting
You've heard of the phrase "the elephant in the room" -- but what if said room was an art gallery? That's sort of what is going on with Shanti, the "Pachyderm Picasso" -- an elephant that actually paints art. SEE MORE: It's a Bird, It's a Plane, It's a... Dead Cat? According to ITV News [...]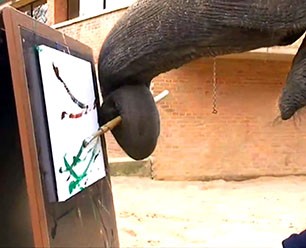 Photo via ITNNews on YouTube
You've heard of the phrase "the elephant in the room" — but what if said room was an art gallery? That's sort of what is going on with Shanti, the "Pachyderm Picasso" — an elephant that actually paints art.
According to ITV News and GrindTV, Shanti, who lives at the Prague Zoo, takes a paintbrush with her trunk, and sways it across a canvas — with some assistance from a human, of course. The end result are paintings that may not seem artful to some, but very artful to others — in fact, they fetch for up to $2,000 each, and people are buying.
Unfortunately, Shanti is currently in a rut and isn't painting anymore — which only makes her limited edition series all the more valuable. That's a good thing in a way, because all proceeds of the paintings go towards an elephant sanctuary in Sri Lanka.
So the next time you go to a contemporary art gallery and see a painting with a bunch of squiggly lines on it and wonder, "I could do that," think: so could an elephant.