Orcas Swim Free from Icy Entrapment
After days of mounting concern, shifting winds apparently free a pod of orcas surrounded by sea ice. ->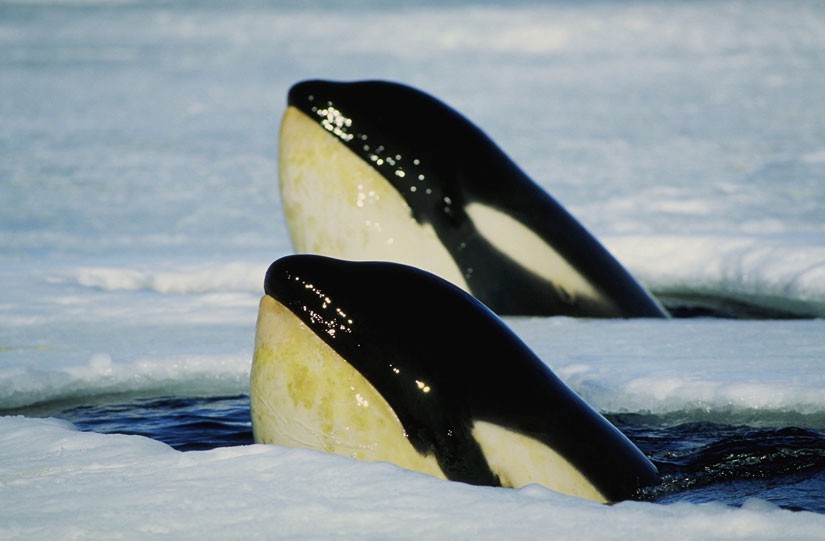 A pod of about a dozen orcas has reportedly escaped to open water in northern Quebec, after several days of mounting worldwide concern about their fate amid encroaching ice.
The orcas were first spotted on Tuesday morning by an Inuk hunter from the village of Inukjuak. They were surfacing in a breathing hole surrounded by sea ice at the eastern top of Hudson Bay. By the following day, local residents reported that the hole was shrinking and that the whales' plight seemed desperate.
"It appears from time to time that they panic," said Inukjuak mayor Peter Inukpuk. "Other times they are gone for a long time, probably looking for another open space, which they are not able to find."
"It is difficult to go near the ice since the waves from the whales are making it impossible," added Inukjuak city managerJohnny Williams. "The breathing hole is getting smaller and smaller. Their whole body jumps up for air."
Inukpuk called on the Canadian Government to send an icebreaker to help free the whales before the hole closed over. The story reached Canadian broadcaster CTV and thence spread rapidly around the world. Richard Branson posted a petition, urging Ottawa to send an icebreaker. News updates and please for help were posted to Twitter with the hastag #savequebecwhales.
In the absence of outside help, the villagers had been planning to head out on to the ice with chainsaws to expand the shrinking hole; in the event, however, no such effort was necessary.
"We had strong wind coming in from the northeast late last night and it cracked a huge section of the ice," said Williams on Thursday morning. "The whales are gone now, and we're pretty happy about that." However, although the whales were apparently free from the ice in the immediate vicinity of the village, there remains plenty of sea ice for them to navigate on their way out of in Hudson Bay.
Some scientists believe that such incidents may become more frequent in future. That particular stretch of Hudson Bay is normally frozen in January; however, as sea ice freezes later each year and as its extent retreats northward, normally non-ice-loving species such as orcas may be straying farther north and staying too long.
"It seems the ice dynamics are changing very quickly," said Christian Ramp of the Mingan Island Cetacean Study. "Suddenly a huge expanse of open water is clogged up, and they miss the chance to get to open water. The risk is that the hole freezes up, and they basically just drown."
He added that, "It's heartbreaking to witness these pictures, but it's probably occurring more often than we think."
IMAGE:
Two Orcas in Ice. (Gerald Kooyman, Corbis)