iStockPhoto
Some 22 percent of men and 14 percent of women will cheat on their spouses at least once during their marriage.
Corbis
The intersection of sex and technology continues to arch many an eyebrow in the digital age. And yet, the area has never been so fertile as it has been over the last year. "Technology has really made sex more pleasurable for many people," said Dr. Justin Garcia, a CTRD Postdoctoral Fellow at The Kinsey Institute at Indiana University. "It also provides resources, tools or toys, or certain things that bring new excitement or spice to a couple's sex lives." Yet, that may not come across in the media and pop culture, which Garcia says is inundated with negative stereotypes of a society that's become so technological that we're all just texting in bed instead of communicating in a more carnal fashion. "There's actually not a lot of scientific literature stating the negatives of technology on our sex lives and relationships -- surprisingly," said Garcia. Is sex getting too techy or is it that tech is getting sexier? Why not decided for yourself. Here's a handful of tools, toys and innovations from the crossroads of sex and technology over the last year that just might turn you on...to a whole new perspective.
Sinful Robot
Sinful Robot Software developer Sinful Robot and Irvine-based Oculus, a hardware company developing a virtual reality headset, are teaming up to produce virtual reality sex. The Oculus Rift headset won't go on sale until early 2014, but that hasn't stopping Sinful Robot from launching a company and putting out the word that they're seeking to hire 3D character artists. Their goal is to create the world's first series of fully immersive erotic encounters.
WhereDidYouWearIt.com
Bar-Coded Condoms Earlier this year, Planned Parenthood of the Great Northwest (PPGNW) distributed 55,000 condoms around community colleges and universities. The condoms have QR codes that can be scanned by smartphones and then connected to the website WhereDidYouWearIt.com. Here, users can upload their location, along with general details and anonymous reviews of their sexual experience. The site allows participants to rate their rolls in the hay on a scale from "things can only improve from here" to "ah-maz-ing -- rainbows exploded and mountains trembled." Nathan Engebretson, PPGNW New Media Coordinator, reinforced in a press release that condoms are an essential tool in preventing unwanted pregnancies and sexually transmitted infections. "We hope the site promotes discussions within relationships about condoms and helps to remove perceived stigmas that some people may have about condom use," he said. "Where Did You Wear It attempts to create some fun around making responsible decisions."
Kim Woodrow, UW
Dissolvable Birth Control and HIV Protection In the long-standing debate of whether size does or does not matter, you rarely, if ever, hear anyone say smaller is better. That is, until now. A team of researchers from the University of Washington are working in the nano-scopic world to develop a soluble, nanostructured fabric that could be used by women for both contraception and HIV protection. The scientists mixed FDA-approved polymers and HIV-fighting antiretroviral drugs into a syringe and then ejected the solution across an electrical field -- a process know as electrospinning. The spinning stretched into solution into thin, nanometer-sized fibers that were collected and turned into a stretchy fabric. The electrospun fabric could be inserted vaginally or be used as a coating on products, such as a vaginal ring, capable of blocking sperm and releasing preventative drugs to protect against a variety of sexually transmitted infections. Researchers say they could even create a fabric that dissolves within minutes or over the course of a few days, providing women a more sustained protection similarly found with birth control pills.
Scamline
Hands-Free, Wi-Fi Vibrator Scanlime blogger Beth, who calls herself an improvisational engineer, has boldly created a hands-free vibrator. Using a sonar sensor and Arduino software, Beth created a haptic device with two parts: a transmitter that wirelessly links up with the vibrator on the receiving end. "This toy serves as a kind of analog bridge between two remote spaces: the column of ultrasonically oscillating air in front of the remote, and whatever body part happens to be in contact with the vibrator," she writes. "Touch that invisible space above the remote, and the vibrator touches you."
Digital Vision / Getty Images
Robot Prostitutes In their paper "Robots, Men and Sex Tourism" for the journal Futures, Ian Yoeman and Michelle Mars envision a future where robotic prostitutes are the solution to the sex industry's most glaring problems, such as human trafficking, human degradation and the spread of sexually transmitted infections. According to the report, clients could have "guilt-free" sex with androids made from bacteria-resistant fiber that would be flushed for human fluids, therefore guaranteeing no transmission of STDs.
Youtube screen grab
Avatar Girlfriend Using a hacked Kinect sensor and a pair of video glasses sandwiched together, a Japanese man not only created a virtual reality girlfriend, named Hatsune Miku and she came pre-made from a Japanese voice synthesizer called Vocaloid. Capable of overlaying virtual objects in the real world, the video glasses allowed turquoise-haired Miku to tag along with her new found companion. What did the lovely couple do on their hot date? Well, Miku mainly just bounced around looking perky and wide-eyed while her gentleman suitor patted her on the head. If you want to chaperone the awkward couple on their date, you can watch the cringe-inducing, ear-splitting footage in this video. While Hatsune Miku's skimpy, tutu-like skirt and thigh-high stockings might turn some people on, you make the call: Are avatar girlfriends (or boyfriends) sexy or just another sad notch in the techie belt of loneliness?
YouTube screen grab
The Kissenger While there are many ways to stoke the fires of a long distance relationship, none are so tangible as the "Kissenger." Well, during the course of my research, I've come across a few so-called teledildonic devices that would certainly qualify as "more tangible," but for the sake of keeping things safe for work, at least the Kissenger is not just a peck on the cheek. Short for Kiss Messenger, the device allows couples to lock lips via the Internet. If you can get past its name without thinking of Henry Kissinger, or the fact that it looks like Mr. Potato Head, I sincerely applaud you. Once those monumental hurdles are overcome, you can trade spit with the pair of oversized, motion-sensitive silicone lips adorning the small head-shaped device, small enough to fit in the palm of your hand. Couples just have to link up the devices to their computers via USB cables for the make-out session to begin. Sensors triggered in each device allow couples to feel a sense of corresponding exchange.
Pochuter, DigInfoTV
Pucker-Up Poster If you don't want to smooch a potato, how about puckering up for this kissable, interactive poster? "I'm a big fan of pop idols, and I have posters of them in my room," Keio University researcher Keidai Ogawa explained in a promo video. "It bugged me that the posters didn't move at all. We built this system because we thought, if a poster could move to match people's movements, that would be interactive and fun." Ogawa added: "This system is very simple. There's an ultrasound sensor here, to detect how far away your head is. As you approach the sensor, the picture changes. When you get closer, the picture becomes a kissing face, and when you move away, it becomes a blushing face." As the researchers plan to develop an iPad application, they're also interested in incorporating more features to arouse your senses. The scent of shampoo from a person's hair, a lemon-flavored film on the screen lips or a kisser who whispers "I love you" are all being considered.
Kinsey Reporter
Kinsey Reporter When it comes to shattering the taboo of sex, look no further than the Kinsey Institute. Since being founded in 1947 by Dr. Alfred Kinsey, the Bloomington-based sex, gender and reproduction research institute has been steadfast in it's mission to advance sexual health and knowledge worldwide. Technology allows people to engage in participatory observation and lets people become scientists, said Garcia. "They can report what they see and what they're doing in a new way," he said. So it's no surprise that, by the end of the year, the institute is launching Kinsey Reporter, a "global mobile platform for the reporting, visualization, and analysis of anonymous data about sexual and other intimate behaviors." The free smartphone app will allow users to anonymously share detailed data on everything from the sexual preferences and recent intimate experiences to fetishes and public displays of affection witnessed at the bus stop. Data is then sent securely to a central database where it's aggregated and shared openly at KinseyReporter.org. Therefore, feel free to check your inhibitions at the door and give them all the juicy details. You know, in the name of research.
DigInfoTV
Huggable Robot Teledildonics and interactive kissing devices may be able to spice up long distance relationships, but what about when you need a good ole' fashioned hug from that person who lives on the other side of the globe? Well, open your arms to the Hugvie Robot. Invented by Japanese robot designer Hiroshi Ishiguro, the Hugvie is a plush, tadpole-shaped figure that can make all those long distance phone calls a little more personable. A pocket inside the robot lets you insert your smartphone when you call your loved one. A device inside Hugvie converts your beloved's voice into vibrations you can feel while cuddling. In yet another attempt to annihilate the body pillow industry, a subsequent gadget inside the robot mimics the pulse of a heartbeat, turning Hugvie into the ultimate non-human snuggler. According to the press release, the robot's "vibrations can be customized to allow for softer or stronger pulses as they respond to the volume and strength of the voice on the other end of the line." If you're in need of Hugvie's warm embrace, it's available at Vstone. ANALYSIS: Find Out What Your Dreams Sound Like

One 29-year-old woman says it helped her take revenge on her unfaithful husband. A 45-year-old married man says it has helped prevent the break-up of his family. For millions, adultery via the Internet has become the new normal.
Since the launch of the Canada-based Ashley Madison website in 2002, which created a sensation with its seductive slogan "Life is short, have an affair," the numbers turning to online infidelity have soared.
There are now dozens of similar websites offering the promise of extramarital relationships with domain names that are unabashedly direct, from www.datingforcheaters.com to www.heatedaffairs.com.
For Noel Biderman, the founder of Ashley Madison, his site and others like it are merely facilitating a human desire that is as old as time.
"No one can show me a culture on the planet where infidelity doesn't happen," Biderman told AFP. "Infidelity was always there," he added, noting that conventional dating websites are often "overrun by would-be affair seekers."
By offering a site catering specifically for married individuals, Ashley Madison had "filled a void in many married men and women's hearts," Biderman said, noting that the site now has some 25 million members in 35 countries, earning around $100 million in revenue last year.
According to figures in the Journal of Marital and Family Therapy, some 22 percent of men and 14 percent of women will cheat on their spouses at least once during their marriage. Has the existence of sites like Ashley Madison encouraged and increased infidelity?
"It's hard to know if the new technologies increased infidelity because we have no bottom-line data," said Pepper Schwartz, a professor of sociology at the University of Washington in Seattle.
"My guess, however, is that it has because there are many people who have a yen for sex outside their relationship but wouldn't have the slightest idea about how to do it or do it safely," Schwartz added.
Monogamy 'Unfair'
Jinky, a 29-year-old woman from Singapore, is a case in point. She decided to pursue an affair after seeing an ad for the website www.datingforcheaters.com.
"I was married at a very young age, I was 18," she told AFP in an email. When she discovered that her much older husband had been cheating on her, she set about avenging the infidelity through adultery websites.
Young and old, men and women, rich or poor, frequenters of adultery sites come from all backgrounds, with a clear majority of users being men in their 40s, according to Ashley Madison. The reasons individuals are drawn to such sites are equally diverse.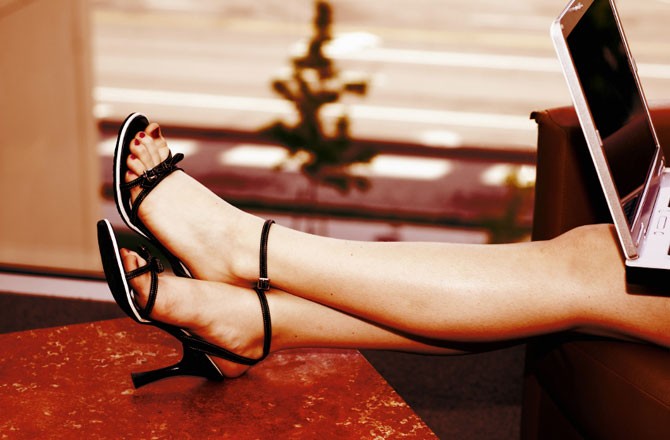 Some 22 percent of men and 14 percent of women will cheat on their spouses at least once during their marriage.iStockPhoto
"Some are looking for sex because they are in sexless marriages with people they love or don't want to leave for other reasons but cannot have sex with," said Schwartz.
"Others are stimulation junkies -- they just can't be satisfied with sex with only one person, even if they love that person. Some people want to 'shake up' their lives, there are people with a 'kink', something they enjoy about sex that their partner wouldn't do."
Greg, 45, has no doubt about the effect AshleyMadison.com has had on his personal life. "I think it's fair to say that without (it), I would probably be divorced by now," he said.
"As strange as it seems, Ashley Madison has provided a way for me to fill a void in my life without having to break up my family."
Others meanwhile argue that monogamy is simply impossible if you possess a high libido. "As a woman with a high libido, I've realized it's not only unrealistic but indeed unfair to rely solely on one person to satisfy my needs," says Stephanie, 28.
Predictably, adultery sites have little time for the argument that they are a corrupting influence. Jay Thompson, a spokesman for datingforcheaters.com, says simply that the site's customers -- around three million people -- "are adults."
"I believe in people's freedom, they have the right to choose who they want to be, especially when it comes to sexuality," added Biderman. "I look at affairs having two components -- meeting someone and not being discovered. So everything I have done from the moment we launched Ashley Madison is to help with both of these two components."
"My role in this is to give you a safe environment to connect and communicate with other people. I don't get a bonus if you meet in a hotel room."
The corollary to the surge in adultery sites, however, has been an increase in products that enable suspicious partners to monitor the activities of their other halves. Whether it is spy cameras or phone apps which store text messages or track an individual's movements, there is an ever-growing technological arsenal available to those seeking to unmask the unfaithful.
Jeffrey Jurist, whose website SpyAssociates.com sells a vast range of surveillance equipment, said that individuals seeking to uncover adultery account for around one-third of the company's turnover.
"Greed, lust and fear are all high-growth industries," he said.