Olympic Torch Heading to the Space Station
An all veteran crew is preparing for launch to the International Space Station Wednesday night with a very special payload aboard -- an Olympic torch, part of a high-profile buildup to the 2014 Winter Games in Sochi, Russia. Continue reading →
NASA/ESA
This was the view from the International Space Station as the European Automated Transfer Vehicle "Albert Einstein" (ATV-4) undocked and began five days of orbital maneuvers before reentry on Nov. 2. The unmanned cargo vehicle had been docked to the space station for five months after delivering seven tons of food, supplies and equipment to the orbiting outpost in June. Filled with trash and unwanted equipment, the ATV became a high-tech waste disposal system on Oct. 28 as it began its reentry procedure. These are some of the spectacular views as seen by space station astronauts as the ATV slammed into the Earth's atmosphere.
NASA/ESA
The descending ATV-4 slowly approaching its reentry demise against the backdrop of Earth -- two commercial jetliners and their contrails can be seen.
NASA/ESA
From the space station astronauts perspective, the ATV can be seen interacting with the Earth's atmosphere some 62 miles (100 kilometers) directly below. Pieces of the ATV are ripped away by extreme stresses and begin to burn up.
NASA/ESA
The main mass of the ATV burns brightly during reentry over an unpopulated region of the Pacific Ocean on Nov. 2.
NASA/ESA
Resembling a meteor, the main mass of the ATV succumbs to the extreme heating and dynamic stresses as it tumbles through the atmosphere.
NASA/ESA
The remaining mass of the ATV breaks up, scattering pieces as the spacecraft lights up the skies over the Pacfic Ocean.

An all veteran crew from the U.S, Russian and Japanese space agencies is preparing for launch to the International Space Station Wednesday night with a very special payload aboard — an Olympic torch, part of a high-profile buildup to the 2014 Winter Games in Sochi, Russia.
PHOTOS: Astronauts Watch Spectacular Spacecraft Reentry
The crew's Soyuz spacecraft is slated to lift off at 11:14 p.m. EST from the Baikonur Cosmodrome in Kazakhstan. Russian cosmonaut Mikhail Tyurin, NASA astronaut Rick Mastracchio and Japan's Koichi Wakata should reach the station about 5:30 a.m. on Thursday.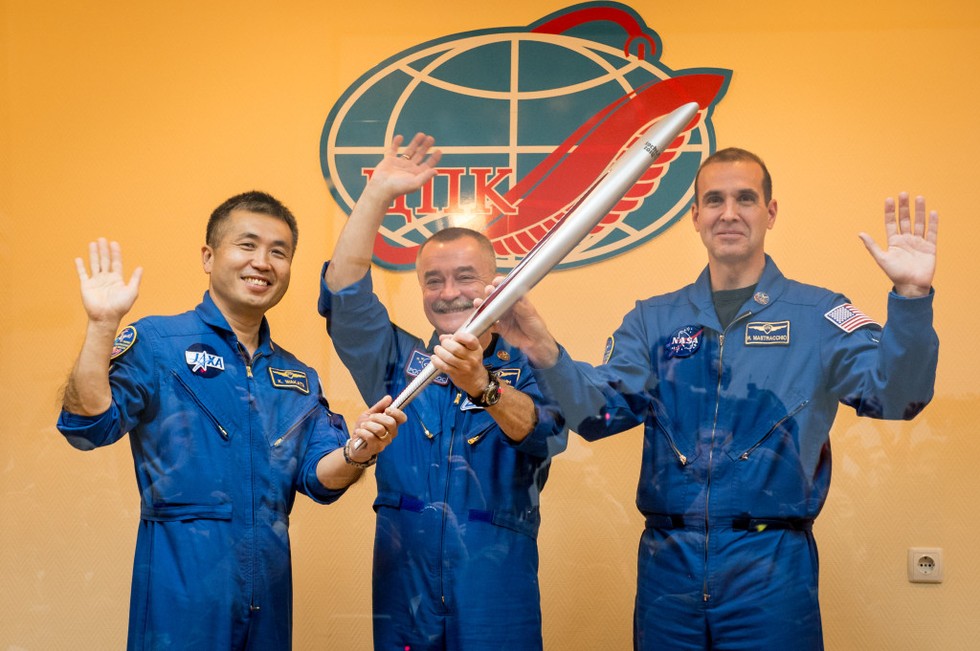 Their arrival marks a departure from the typical rotation of station crew members. Usually, half the six-member live-aboard crew returns back to Earth a couple of weeks before their replacements are launched. This time, however, Russia wants its returning crew members to bring the torch home, so the replacement crew/torch delivery team is arriving early.
NEWS: Olympic Torch to Take a Space Walk
Just bringing the Olympic torch to space isn't enough. On Saturday, cosmonauts Oleg Kotov and Sergey Ryazanskiy, who have been aboard the station since Sept. 25, will make a spacewalk during which they will display and photograph the torch outside the outpost.
The next day, the torch will head back to Earth with returning crew members Fyodor Yurchikhin, Luca Parmitano and Karen Nyberg. The torch will be prominently featured during the opening ceremonies of the Olympic games in February.
Images: Top: The awaiting Soyuz rocket with accompanying Olympics logo at Baikonur Cosmodrome in Kazakhstan. Inset: An international crew and an Olympic torch are heading to the space station Wednesday night. NASA/Bill Ingalls