Oh Those Swedes: Is Less Work, More Play Next?
The country that already makes most of us jealous is now looking to shrink the working week to six-hour days.
Getty Images
Swedes may have even more time to relax if a six-hour workday is adopted nationwide.
Tim Williams, USFWS, Flickr
Summer is almost over, but there is still time for one last road trip over Labor Day weekend. Visitors don't even have to get out of their cars to enjoy some of America's natural beauty. The U.S. Fish and Wildlife Service presented these 10 wilderness areas that can be enjoyed from behind the wheel. Or simply take in the scenery from the desktop of your computer.
Bombay Hook National Wildlife Refuge, Delaware
The 12-mile drive through Bombay Hook National Wildlife Refuge passes salt marshes, woodlands and fields near Delaware Bay, south of Philadelphia. At this time of year herons, egrets and black-necked stilts wade the waters of the refuge. Birds of prey, such as red-tailed hawks and bald eagles, make their homes there year-round.
Harold Wagle, USFWS, Flickr
J.N. "Ding" Darling National Wildlife Refuge, Florida
This October, a four-mile-long wildlife drive through the J.N. "Ding" Darling National Wildlife Refuge will reopen after repaving. The route winds through mangrove forests, marshes and clumps of hardwood trees. Roseate spoonbills (shown here), storks, herons, pelicans, bald eagles, otters, bobcats and alligators live in the refuge, which was named for a Pulitzer-prize winning political and environmental cartoonist.
Pat Gaines, USFWS, Flickr
Bosque del Apache National Wildlife Refuge, New Mexico
Drive south from Albuquerque to reach the 12-mile auto loop of the Bosque del Apache National Wildlife Refuge for spectacular views of the Chupadera and San Pascual Mountains. At dawn from late October through early spring, flocks of sandhill cranes and snow geese fly out of the refuge to feed in fields and return at dusk to the wetlands, like the sleeping cranes in this nighttime photo.
USFWS, Wikimedia Commons
National Bison Range, Montana
A steep 19-mile gravel road up Red Sleep Mountain leads to outstanding views of grasslands where herds of bison, antelope, elk, big horn sheep and deer graze in the National Bison Range of Montana. The sight of the Mission Mountain range of the Rockies rewards travelers who make it to the top.
Dave Menke, USFWS, Flickr
Lower Klamath and Tule Lake National Wildlife Refuges, California
In northern California, the Lower Klamath and Tule Lake National Wildlife Refuges offer two chances to glimpse Mt. Shasta and do some birdwatching from behind the wheel. Take either the 10.2-mile Lower Klamath loop or an alternative side route that leads to a hiking trail head and boasts seasonal views of ducks and geese (spring/fall), white pelicans and western grebes (summer), and bald eagles and other raptors (winter).
Matthew Strausser, USFWS, Flickr
Kenai National Wildlife Refuge, Alaska
Moose, bear, snowshoe hares, beaver and lynx roam near the Skilak Loop Wildlife Drive, an 18.5-mile gravel loop in the Kenai refuge. The drive passes through a black spruce forest and along Skilak Lake and Engineer Lake.
Carl Evans, USFWS, Flickr
Wichita Mountains Wildlife Refuge, Oklahoma
A three-mile drive leads to the top of Mt. Scott in the Wichita Mountains southwest of Oklahoma City. From there, motorists can take in a panoramic view of the Wichita Mountain range. In the shadows of the mountains, bison roam through the wildflowers of some of the United State's last untilled prairie.
USFWS, Flickr
Seney National Wildlife Refuge, Michigan
In the Seney refuge, the seven-mile Marshland Wildlife Drive provide a view of wetlands and open water. The route also passes through forests in the Great Manistique Swamp, an old lumbering area, now home to beaver, river otters, bald eagles, osprey, black bear and numerous birds in the Upper Peninsula of Michigan.
Walter Siegmund, Wikimedia Commons
Ridgefield National Wildlife Refuge, Washington
Near the bank of the Columbia River, a 4.2-mile gravel loop road cuts through fields, wetlands and forests in the Ridgefield National Wildlife Refuge, north of Portland, Oregon. Along the way, an observation blind allows visitors to catch a surreptitious glimpse of many birds, such as the red-tailed hawk shown here, as well as mallard ducks and sandhill cranes.
Jennifer Jewett, USFWS
Des Lacs National Wildlife Refuge, North Dakota
Over the gently rolling hills of upland prairie in North Dakota, the 19-mile Refuge Backway allows motorists to see moose, deer, turkeys, raptors and migrant birds in the Des Lacs National Wildlife Refuge. In Autumn, land managers conduct controlled burns to restore the health of the grassland.

Sweden is planning to test the impact of shorter working hours on productivity, in an experiment beginning on July 1. One group of government workers in the elderly care sector are to work six hours a day, while another will work the eight they are used to.
After a year, the municipal government will analyze the results and decide whether the six-hour day brings enough savings -- in the form of fewer sick days for instance -- that it warrants becoming permanent and extended to other sectors.
So far, the plan is limited to the civil service, but city councelman Mats Pilhem of the Left Party is convinced that all of Sweden is headed toward a shorter work day.
"People have long work lives, and it's necessary to think of ways to create a more humane environment for them in the workplace," he said.
Critics like Malin Sahlen, an analyst at Timbro, a libertarian Stockholm-based think-tank, warn that the math does not add up in terms of the wider economy, saying it would be far too expensive to make a large part of the labor force work 25 percent less -- for the same pay.
"I think it's a crazy idea and I don't think it's going to be reality either," she said.
Opponents say shorter workweeks have been experimented with across Europe -- 35 hours in France and Germany, an average of 30 hours in the Netherlands -- to mixed economic results.
"It's the kind of populist and socialist policy that's very dangerous for the economy, and we shouldn't go through with it," warned Maria Ryden, a member of Gothenburg city council for the center-right Moderates, which opposes the plans. "We're capable of working more."
But proponents of cutting the workday point at short-term benefits in the form of fewer sick days, and greater efficiency at work due to fewer breaks.
And they argue that greater savings will come in the long run, with a workforce that is less exhausted and therefore more productive as it approaches retirement.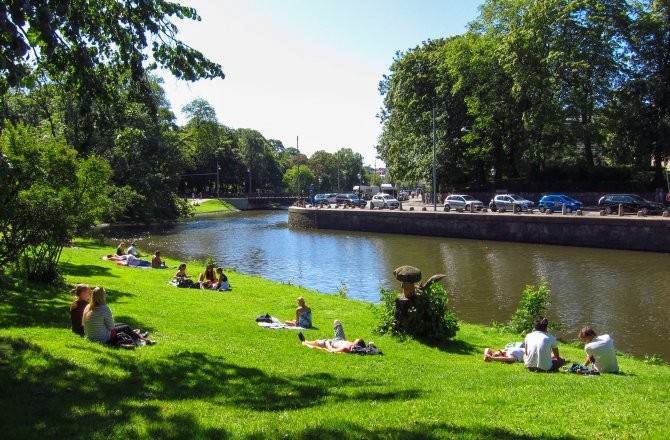 Swedes may have even more time to relax if a six-hour workday is adopted nationwide.Getty Images
Pilhem says the concept has already proven its merits -- at Toyota.
Toyota's Gothenburg branch introduced the six-hour day in 2002 to make its facilities more efficient by having two shifts, one in the morning and one in the afternoon, instead of a single, longer one.
Robert Nilsson, a 25-year-old mechanic there, confirms that in his experience a six-hour day -- paid as much as eight -- is more efficient because it requires fewer breaks.
"Every time you have a break, it takes 10 to 15 minutes to get back to work, because you have to see where you were when you left off," he said.
That efficiency is reflected in the salary, as the Toyota workshop pays technicians like Nilsson 29,700 Swedish kronor (3,300 euro, $4,510) a month, well above the 25,100 kronor (2,790 euro, $3,810) national average for workers in the private sector.
"It was a huge success straight away," said Toyota service center manager Elisabeth Jonsson.
"We saw the results, and everything was working for the staff, for the company, for the customers, so I don't think we ever had any discussion about putting an end to it."
"My friends hate me. Most of them think because I work six hours, I shouldn't be paid for eight," Nilsson said, talking while fitting part of a rear window onto a Toyota Prius with swift, expert moves.
Sweden often stuns first-time visitors with its laid-back prosperity, making foreigners wonder how it is possible to have both lots of money and lots of leisure.
Part of the answer, according to economists, is a productive and well-educated workforce that adapts to new technologies quicker than most.
Exactly how much -- or how little -- Swedes work compared with other nations is a somewhat open question.
"We have a 40-hour work week, but also we have a little more absence than many people and we start work late in life because we study longer," said Sahlen.
In 2012, the average Swede worked a total of 1,621 hours, according to the Paris-based Organisation for Economic Co-operation and Development.
This is more than the Netherlands with 1,381 hours, but less than Britain with 1,654 hours or the United States with 1,790 hours -- and way below Chile's 2,029 and Mexico's 2,226 hours.
"We could work more, that's a fact," said Sahlen.
But in an international productivity ranking by the Conference Board, a non-profit business research organisation, Sweden was already placed close to the top, coming 11th out of 61 countries.
The United States was third, the Netherlands number five, and Britain number 13, whereas Chile and Mexico were both in the bottom third.