Obama to MSL Team: Martian Microbes and Mohawks
The President called the JPL team to congratulate them on a job well done in landing Curiosity on Mars... and to talk about trendy haircuts.
President Barack Obama made a phonecall from the White House to California this morning to congratulate the Mars Science Laboratory team on a job well done, a week after the one-ton Curiosity rover touched down on the Martian surface.
"I just wanted to call to say congratulations to the entire Mars Science Laboratory team and really all of JPL on last Monday's incredible success," Obama said during the phonecall that was patched into a loudspeaker at mission control in NASA's Jet Propulsion Laboratory in Pasadena, Calif.
"Through your dedicated efforts, Curiosity (landed) and captured the attention and imagination of millions of people not just across our country, but people from all around the world." Obama also gave a nod to the live screening of Curiosity's landing on Times Square's monster TV screens.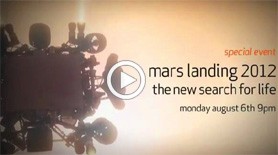 SCIENCE: Mars Landing 2012: The New Search For Life
"Your hard work is now paying dividends. Our expectation is that Curiosity is going be telling us things we did not know before and laying the groundwork for an even more audacious undertaking in the future and that's a human mission to the red planet."
With the expected congratulatory remarks out of the way, Obama focused on Bobak Ferdowsi, activity lead and flight director on the Mars Science Laboratory Curiosity mission, who became an internet sensation during the televised landing of Curiosity.
"I understand that there's a special 'Mohawk guy' working on the mission?" Obama jokingly asked, which was promptly followed by a roar of laughter from JPL. Ferdowsi's haircut captivated viewers during the landing, which resulted in a meme devoted to the "Mohawk guy."
"I've, in the past, thought about getting a Mohawk myself," Obama added, but said he'd better not do it because of all the marriage proposals Ferdowski received.
Obama then discussed the inevitable politics that comes with any NASA mission, pointing out that his administration is working hard to protect NASA projects and embrace science, technology, engineering and mathematics (STEM) topics in education. He pointed out that the inspiration that such an ambitious robotic mission to Mars brings will motivate the younger generations, perhaps inspiring them to one day be the first humans to walk on Mars.
"We are fortunate to be a part of a society that can reach beyond our planet and explore frontiers that were only imagined by our ancestors."
Ever anxious to raise a smile, Obama had a very specific order for the MSL team: "If in fact you do make contact with Martians, please let me know right away."
He pointed out that he has a lot of other things on his plate, but if we did make contact, "that would go to the top of my list! Even if they're just microbes it would be pretty exciting."
Of course, the next logical step would be to see Obama with a Ferdowski Mohawk, so Twitter complied (thanks @darth for taking the initiative):
OK RT
Image credit: The president makes a phonecall. Credit: Corbis