ESA/NASA.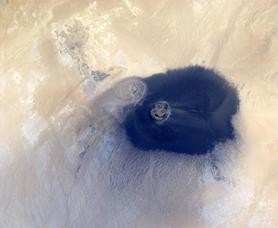 ESA/NASA.
June 5, 2012 -- Taken by ESA astronaut Andre Kuipers aboard the ISS on May 21, 2012, this photo shows the dark stain of Wau an Namus, a volcano located in the Sahara desert of southern Libya. A 10-20 km-wide apron of basaltic lava surrounds the volcano's central cinder cone, which itself is ringed by three small, salty, reed-lined lakes that undoubtedly helped to give the area its name -- which means "Oasis of Mosquitoes".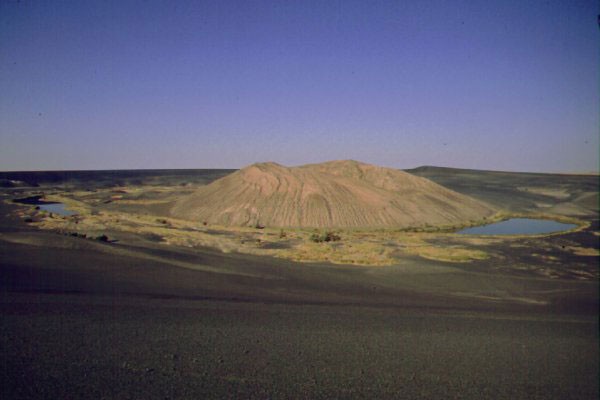 ESA/NASA
The region is located in nearly the geographic center of the Sahara desert. Incredibly remote, Wau an Namus was not seen by Europeans until 1918. It's thought that the eruption that created it occurred 3000-4000 years ago, during a time when rain was more common in the Sahara. This is evidenced by deep channels carved into the flanks of the central cone.
A more eroded and likely older cone lies at the northwest edge of the caldera.
The dark, gravelly basaltic material, although not fine like sand, is thin and if disturbed will reveal the lighter desert surface beneath... not unlike the desert-like regions of Mars where dust devils sweep across the surface, leaving bright tracks in their wake.
You can find more photos of Wau an Namus here.