Now's Your Chance to Own a Piece of NASA
If you've ever wanted to own a piece of America's spaceflight history, now is your once-in-a-lifetime chance to add something truly spectacular to your collection. ->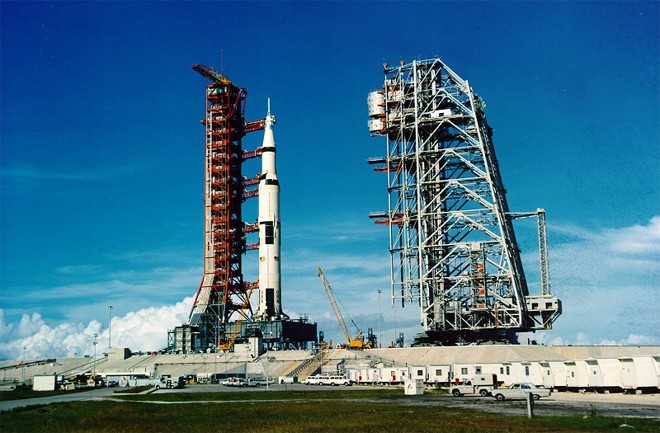 If you've ever wanted to own a piece of America's spaceflight history – and happen to have an absolutely massive bank account — now is your once-in-a-lifetime chance to add something truly spectacular to your collection. The space shuttle landing strip, for example, or an Apollo-era launch pad. As the agency transitions from the shuttle program to its next phase (hopefully) with Orion/SLS launches, it's hosting a quiet sort of "going out of business" sale to get rid of out-of-use shuttle facilities.
Between the Apollo and shuttle programs, NASA developed and built a substantial number of facilities and centers to facilitate launching astronauts into space. Things like mobile launch pads, which were built for the Saturn V then refitted to hold shuttles. Apollo-era launch pads were similarly refitted to deal with exhaust from the shuttle's launch configuration. Specially built gantries gave crews access to the important parts of the shuttle launch stack. As the only spacecraft ever to land like an airplane, NASA built a 1,000 foot-long runway as the centerpiece in its Shuttle Landing Facility.
But now, with no more shuttles to launch and land, these specially built facilities are useless. NASA's hoping to change that by leasing, and in some cases outright selling, these facilities to the right companies.
There are some really noteworthy pieces on the list. Like launchpad 39A. One of the two launch pads where Apollo and shuttle missions began, it also sits on top of the famous Rubber Room. NASA is also renting out space in the absolutely massive Vehicle Assembly Building. The 526-foot-tall structure, which was built to hold the Saturn V during assembly and later served as the site where space shuttles were maintained between flights, is now empty without a steady turnover of spacecraft.  Boeing, for one, is already taking advantage of free space in the VAB. The aerospace company is leasing one of the massive garages to assemble its CST-100 capsules that should eventually take crews to the International Space Station.
More than just space is up for grabs. NASA is also leasing out Hangar N and its high-tech test equipment, its launch control center, and a number of other buildings and undeveloped property at the Kennedy Spaceflight Center. These sites might be more hotly sought after than the historic launchpads. It wouldn't be surprising if companies opted to build their own launch sites tailored to their rockets rather than modifying a existing site. But we'll see.
A large part of the push to rent these historic facilities is rooted in NASA need for funds to maintain them. At the end of the year, federal maintenance money will run out. Machinery will start to rust and buildings will start to deteriorate in the salty Florida air. Sites at the cape can only last so long before they fall into a sufficiently bad state that they become unusable. For decades it's been NASA's ongoing spaceflight operations that has funded ongoing maintenance of these facilities. Now that money just isn't around.
NASA is considering proposals for lease of Cape facilities privately so bidders can stay out of sight of competitors and the public; only calls for proposals have been public. The agency likely won't say who is bidding on what until the selection process is in the final round. Proposals are expected to trickle in over the next six months, meaning we'll probably know who's after what in the latter half of the year. That also means space collectors out there have some time to bid on their favorite historic sites.
Image: Launch pad 39A. Credit: NASA