No More Naked Images with TSA Software Update
Does walking through full-body scanners at the airport give you the heebie jeebies? Great news because the Transportation Security Administration announced Wednesday, it will install software to allow scanners to show a generic human body instead of naked images of travelers, the Los Angeles Times reported. Since February, the TSA has tested software upgrade in [...]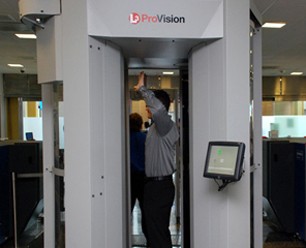 Image courtesy TSA
Does walking through full-body scanners at the airport give you the heebie jeebies?
Great news because the Transportation Security Administration announced Wednesday, it will install software to allow scanners to show a generic human body instead of naked images of travelers, the Los Angeles Times reported.
Since February, the TSA has tested software upgrade in Las Vegas, Atlanta and Washington that would indicate where hidden objects are on a generic human form. Full-body scanners are in 78 airports in the U.S. The controversial screening method uses low levels of radiation to look through the clothes of screened passengers.
"This software upgrade enables us to continue providing a high level of security through advanced imaging technology screening, while improving the passenger experience at checkpoints," TSA Administrator John Pistole said, the LA Times reported.