Nissan Driving for Gold With New 'Bolt'-on Performance GT-R
Nissan has announced a deepened relationship with Olympic Gold Medalist Usain Bolt and will be offering a special "Bolt" version GT-R. While also telling the world he will defend his running titles in the next Olympic games, Bolt visited Nissan's world headquarters to test drive some GT-R vehicles on track as he also was named [...]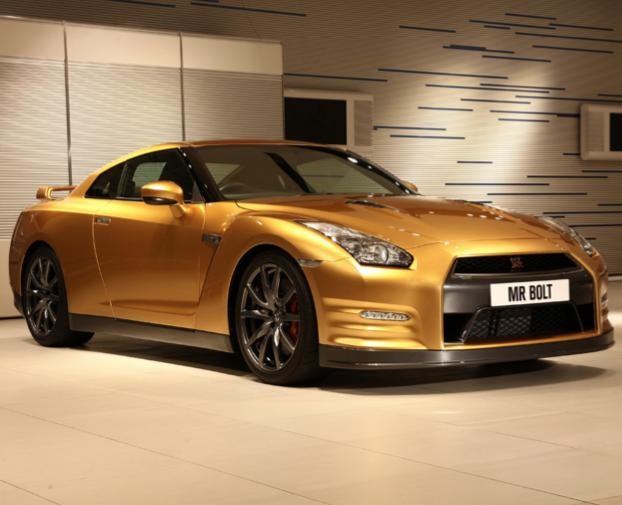 Image courtesy Nissan
Nissan has announced a deepened relationship with Olympic Gold Medalist Usain Bolt and will be offering a special "Bolt" version GT-R.
While also telling the world he will defend his running titles in the next Olympic games, Bolt visited Nissan's world headquarters to test drive some GT-R vehicles on track as he also was named "Director of Excitement" kicking off a new global marketing drive for the automaker.
And in recognition of Bolt's contribution to sports and his automotive enthusiasm, Nissan's Chief Operating Officer unveiled a unique gold-painted GT-R, which will be auctioned to benefit the Usain Bolt Foundation.
Proceeds from the online auction, details which will be announced later in October, will help the foundation's work creating educational and cultural opportunities for children and young people in the Olympic Champion's home country of Jamaica.
The one-off GT-R, to be auctioned on the eBay online auction platform, will be embossed with Bolt's signature and bespoke interior fittings finished in real gold.
During his track time in the GT-Rs, Bolt's reaction times, acceleration, and other handling characteristics were measured and will be used in developing a special "Bolt GT-R" for his personal use while Nissan also begins work on a limited-edition "Bolt-performance" GT-R for markets where Nissan's factory race car is available. Nissan will announce details of this project at a later stage.
"Racing is my inspiration, and I want to help Nissan become an even more exciting brand for everyone," Bolt said.