Next Step, Superwoman: Amputee Fit With Bionic Ankles
Lynn Budde might feel a step closer to Superwoman. Last week the 50-year-old Kentucky resident, who lost her limbs, nose, and upper lip to Toxic Shock Syndrome (TSS) in 2009, was the first female bi-lateral amputee to be fit with bionic ankles. Running on a lithium polymer battery that needs to be recharged daily, the [...]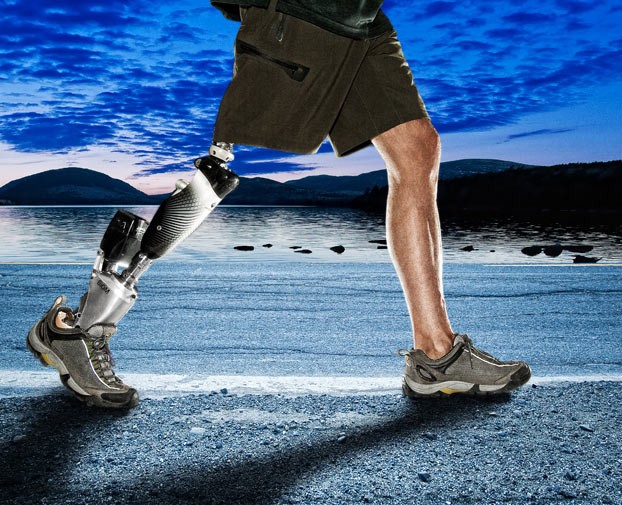 Photo:iWalk
Lynn Budde might feel a step closer to Superwoman. Last week the 50-year-old Kentucky resident, who lost her limbs, nose, and upper lip to Toxic Shock Syndrome (TSS) in 2009, was the first female bi-lateral amputee to be fit with bionic ankles.
Running on a lithium polymer battery that needs to be recharged daily, the ankles are adjustable via an Android smartphone app. In Budde's case, these new ankles allow her to walk out of her house, which sits on a 45-degree incline, and around the block with her husband.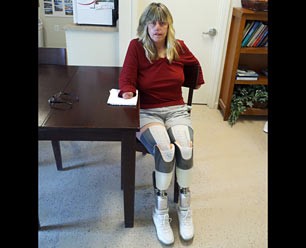 Photo: iWalk
"Two years ago, I never thought I would walk again," says Budde.  "Today, I have two new ankles that as soon as I put them on, I felt like I had my legs back. I want to make sure all those suffering from limb loss know that there are options out there that will help you regain normalcy in your life."
The revolutionary BiOM ankles, which use robotics to replicate muscles and tendons, normalize metabolic efficiency and walking for lower-limb amputees. That means users can walk with a natural gait and at the same speed as a person with intact biological limbs. Additionally, by using robotic muscle power to toe-off, the BiOM absorbs impact and reduces unnatural forces on the body, reducing back, joint, and limb aches.
The system works well. Its inventor, Dr. Hugh Herr, the world-renowned MIT-based innovator and founder of prosthetic company iWalk, has had plenty of opportunity to test it. Herr lost his own legs in a mountain climbing accident at age 17 and wears BiOMs on both his legs for climbing. In addition to the bionic ankles, Herr developed a computer-controlled knee that was named one of Time magazine's Top Ten Inventions in 2004. He holds (or co-holds) more than a dozen patents related to assistive devices.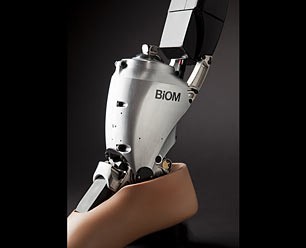 Photo: iWalk
"What we plan to do and will do is systematically build body parts from the ground up, literally," Herr said in a recent CNN interview. "So we're starting with ankles. Then the next act of iWalk is knees. And after that will be hips. And we'll just rebuild the human from the ground up."