News Headlines Printed on Coffee Cup Sleeves
Gulf News, a UAE newspaper, has partnered with Tim Hortons coffee shops to increase readership.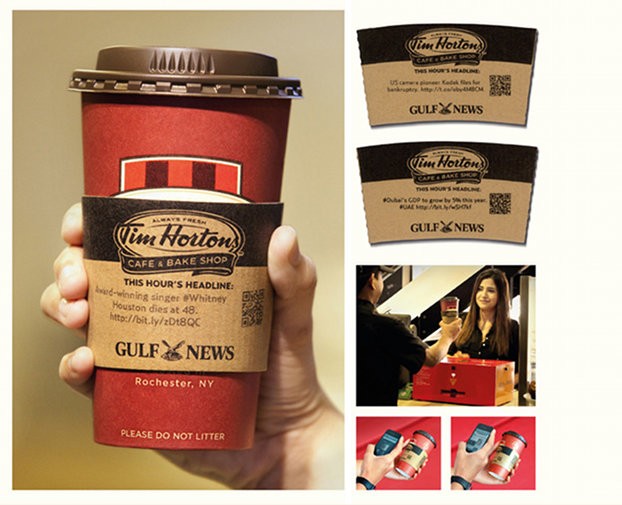 Occasionally, when I go to my local Starbucks I still hope to see the "The Way I See It" quotes printed on the cup. It's been a few years since controversy took them down. Tim Hortons coffee shops in Dubai are giving their customers something to read by teaming up with Gulf News, the UAE newspaper, and printing news headlines on their cup sleeves.
It's a smart move by the publication. The few newspaper readers left out there (this writer included) usually check headlines while sipping their morning coffee. Printing the news on a place right in front of a sipper's nose could convert that person into a Gulf News reader.
Gulf News hired the firm Y&R Dubai to increase traffic to the news media's website. The news headlines are printed on the sleeves with a corresponding short url and QR code that directs readers to the full story on the publication's site. The headlines are updated every hour using a special in-store printer that pulls tweets from the website. The newspaper has gained about 3,000 new followers after two weeks of posting headlines.
They've also gained a 41 percent uptick in website views, and subscriptions have gone up 2.8 percent. It's a small percentage, but in a time where even historic publications are shuttering their doors, every little bit helps.