New to United's Cockpits: 11,000 iPads
Let's hope your pilot isn't playing Angry Birds in the cockpit. United Airlines announced Tuesday it will replace paper flight manuals with electronic flight bags, aka 11,000 in-flight iPads, Wired reported. This switch will save United 326,000 gallons of jet fuel and 16 million sheets of paper a year. Each iPad, which weighs 1.5 pounds, [...]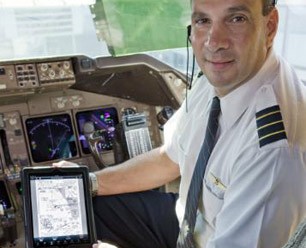 Image: United Airlines
Let's hope your pilot isn't playing Angry Birds in the cockpit.
United Airlines announced Tuesday it will replace paper flight manuals with electronic flight bags, aka 11,000 in-flight iPads, Wired reported.
This switch will save United 326,000 gallons of jet fuel and 16 million sheets of paper a year. Each iPad, which weighs 1.5 pounds, will replace about 38 pounds of operating manuals, flight charts, checklists, logbooks and informational papers. Typically, a pilot's paper-based flight bag houses more than 12,000 sheets of paper.
United's move follows Alaska Airlines, which opted for iPads in June. Delta is testing the iPad and will also test the Motorola XOOM, an Android tablet.
The iPads for United's pilots will run Jeppesen Mobile FliteDeck, a software application that includes interactive route navigation information and geo-referenced terminal charts. No word on whether Angry Birds will be installed.