New Fish Named for Presidents: DNews Nugget
Five new species of small, colorful river fish have been named for presidents. Don't ask why.
New Fish Species Named for Presidents: Five
new species of small, freshwater fish have been named for U.S. presidents, according to Sci-News.com.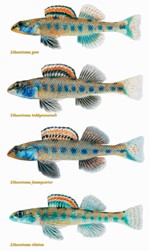 Gore, Roosevelt, Carter, Clinton
The
darters were named by the Saint Louis University's Department of Biology and Dr. Steven Layman of Geosyntec Consultants.
Their namesakes will surely be proud: President Barack Obama is the Spangleddarter,
(Etheostoma obama); 

Obama
Teddy Roosevelt, the Highland darter (Etheostoma teddyroosevelt);
Jimmy Carter, the Bluegrass darter (Etheostoma jimmycarter); Bill Clinton, the Beaded darter
(Etheostoma clinton); and Al Gore, the Cumberland darter (Etheostoma gore).