Nat'l Zoo Octopus Gets a Name!
Smithsonian's National Zoo has a feisty new grapefruit-sized octopus that lacked a name ... until now.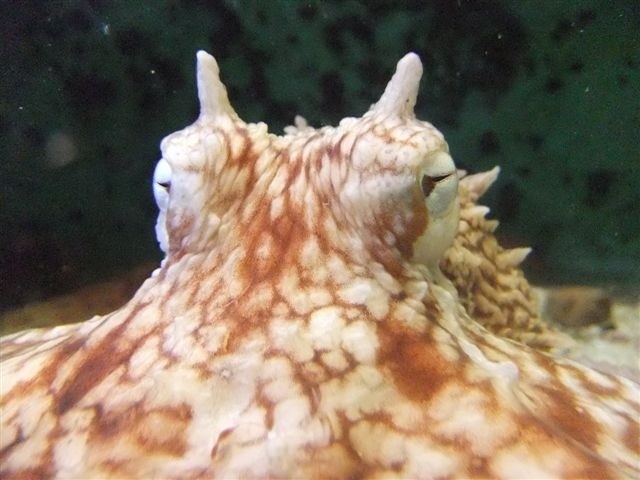 (Octopus formerly without a name; Credit for all images: Tamie DeWitt, Smithsonian's National Zoo)
Update: The octopus' new name is Pandora! A blindfolded keeper at the zoo had to help Pandora pick out its new name, since the octopus soundly ignored the clear plastic balls in its tank that held the other names.
"I'm very excited because they chose my name and it'll be a good name for this octopus," said Trinity Kimberly, age 10, from Sterling, Va., in a zoo press release. "They described the octopus as curious and Pandora means curious."
Monday, Nov. 28: Smithsonian's National Zoo has a feisty new grapefruit-sized octopus that is lacking only two things: its sexual identity and a name.
The former will have to remain a mystery for a while, since the octopus is only one and a half years old. Zoo staff can only determine if the charismatic cephalopod is a male or a female after the individual grows some more. (Mating among octopi is a whole other interesting subject.)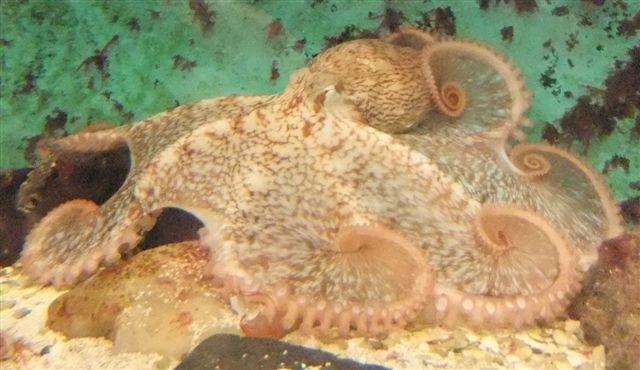 For now, the focus is on what to call the new Giant Pacific Octopus. It came to the zoo shortly after Octavius, another beloved member of the same species, died at the age of 4.
"Octavius was such a charming animal in part because she wasn't at all shy," Tamie DeWitt, the Invertebrate Exhibit's biologist, was quoted as saying in a press release. "During her long and healthy life, she inspired such delight in those of us at the Zoo and in visitors to the Invertebrate Exhibit and webcam. We are certain that the new octopus will do the same in its own unique way and are looking forward to finding it just the right name."
DeWitt and her colleagues suggest that you consider the following when trying to think up a name:
·         Giant Pacific octopuses can evade attackers by squirting ink and escaping while hidden by the ink cloud. This octopus continued to ink before leaving for the Zoo, but has not done so at the Zoo yet, according to its keepers, who describe the octopus as gregarious, feisty and curious.
·         Both Octavius and the new octopus come from Vancouver, British Columbia, Canada. Giant Pacific octopuses live in the Northern Pacific Ocean ranging from southern California, north along the coast of North America's Pacific northwest and south to Japan. They inhabit a wide range of depths, from shallow coastal waters to depths of at least 1,500 meters.
·         The Giant Pacific octopus is the largest octopus species in the world. They emerge from eggs only a little larger than a grain of rice, but as adults can weigh hundreds of pounds, with an arm span of more than 14 feet. Zoo keepers anticipate that the new octopus will grow to be more than 13 times its current size over the next year.
·         Octopuses are mollusks—related to squid, cuttlefish and nautiluses—and can change their color and texture instantly with a signal from their brains. The only hard part of their body is a small beak. They can fit their giant body through an opening just larger than their beak, which is about the size of walnut with its shell.
·         The new octopus will ultimately help the Zoo learn about special behaviors and octopus intelligence when staff and volunteers introduce enrichment items and observe whether the octopus becomes more active as a result.
·         The Giant Pacific octopus feeds on bivalves, crabs and lobster, but will eat a range of species. They have even been observed eating fish, sharks and birds.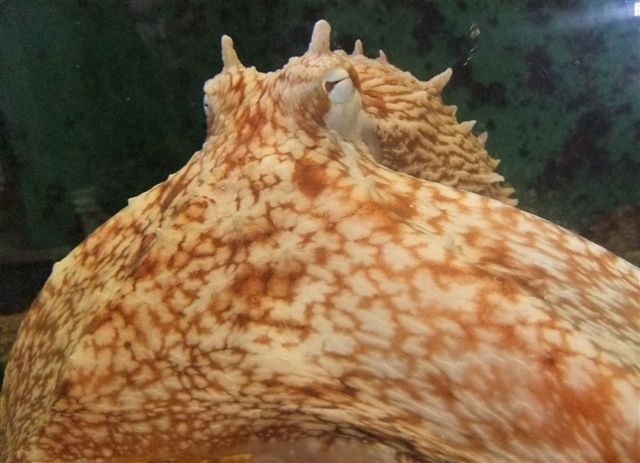 Kids between the ages of 5 and 15 years of age can e-mail their suggestions for a name to the Washington Post's KidsPost (kidspost@washpost.com) until 5 p.m. Monday, Dec. 12. The entrants must put the word "octopus" in the subject line and provide a compelling explanation — no longer than 300 words—for their choice.
The Zoo's invertebrates keepers will pick four finalists based on their creativity and thoughtfulness, and those finalists will be invited to the Zoo to see the octopus pick its own name Saturday, December. 17. They're going to put each name in a colorful puzzle object, and the octopus will select its name based on the object it chooses. Octopuses are super smart, with a natural inclination to investigate any and all things in their environment.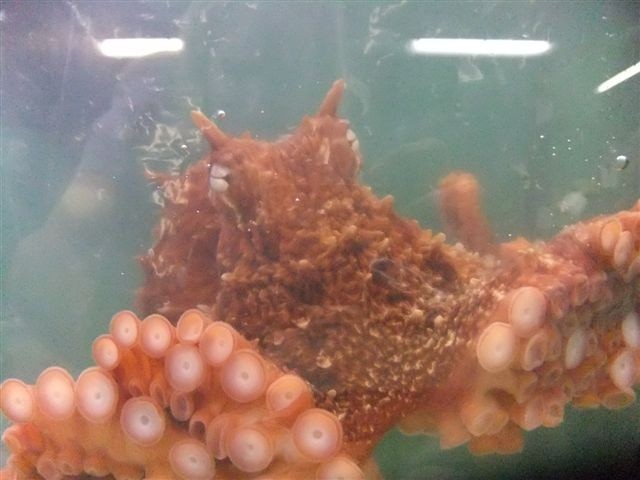 You can also see the new octopus live in the slithery flesh at the Invertebrate Exhibit, which is open daily between 10 a.m. and 4:30 p.m. The daily octopus feeding at 11 a.m. and 3 p.m. is one of the most popular animal demonstrations at the Zoo.