NASA's 'Mohawk Guy' Will Sit with First Lady at State of the Union
Amazing Curiosity rover maneuver lands Bobak Ferdowsi in a prime seat for the speech.
NASA
Bobak Ferdowski, a flight controller for NASA's Curiosity Mars rover, recently updated his famous mohawk hairdo to include the Morse Code letters for "JPL" in homage to NASA's Jet Propulsion Laboratory in California, where he works.
Image: A couple of the first set of images to
Curiosity's First Week On Mars
Aug. 11, 2012 --
It has barely been a week on Mars and NASA's Mars Science Laboratory rover "Curiosity" is wowing us with stunning views from the Red Planet. After the incredibly successful entry, descent and landing (EDL) of the one-ton rover on Sunday night (Aug. 5 PDT), mission controllers at NASA's Jet Propulsion Laboratory (JPL) in Pasadena, Calif., have been checking out the mission's instrumentation -- and all have returned a clean bill of health. Immediately after landing, the first thumbnail photos from the rover's "Hazard Avoidance Cameras" (or "Hazcams" for short) were received and since then it's been a barrage of high-resolution photographs from a mission that is captivating the world. Here are some of Discovery News' favorite views from mankind's newest and most ambitious mission to Mars...
Credit: NASA/JPL-Caltech/University of Arizon
A Parachute Opens Through some carefully timed choreography with NASA's Mars Reconnaissance Orbiter (MRO), scientists operating the High-Resolution Image Science Experiment (HiRISE) camera were able to catch a glimpse of Curiosity descending through the Martian atmosphere shortly after its parachute opened, minutes before landing.
Credit: NASA/JPL-Caltech/MSSS
Flying Saucers on Mars? In a wonderful irony, Curiosity's aeroshell -- the capsule the rover was encased inside during transit from Earth to Mars -- resembled a classic flying saucer. But this flying saucer didn't come from Mars, it was very terrestrial in origin. During the dramatic EDL -- dubbed the "7-minutes of terror" by mission scientists -- the spent heat shield was jettisoned, allowing Curiosity's Mars Descent Imager (MARDI) a first glimpse of the Martian surface. This photograph depicts the heat shield falling away, just before Curiosity (plus Sky Crane) detached from the backshell of the aeroshell and parachute.
Credit: NASA/JPL-Caltech/University of Arizon
Curiosity, the Litterbug In another wonderfully detailed image from the HiRISE camera aboard the MRO, all the components of Curiosity's entry into the Martian atmosphere could be surveyed. The rover, parachute, crash site of the Sky Crane and ditched heat shield are all accounted for in this view.
Image: The shadow of Curiosity and Mt. Sharp
Mount Sharp Mount Sharp -- otherwise known as Aeolis Mons -- became an immediate feature in the early photographs Curiosity's Hazcams sent back to Earth. As a testament to the high accuracy attained during landing, the rover touched down less than one mile away from its intended landing zone, putting it very close to Mt. Sharp and a veritable science gold mine.
Credit: NASA/JPL-Caltech
Curiosity's Shadow As mission controllers continued to check out Curiosity's 17 different cameras, they commanded the rover's mast-mounted Navigation Cameras (or Navcams) to take a snapshot of Curiosity's "head" with the sun behind the rover. The result was captivating -- the outline of Curiosity's blocky Chemcam system against a rocky ground.
Credit: NASA/JPL-Caltech
The Deck Using the mast-mounted Navcam system, Curiosity was able to survey its "deck" -- a partial 360 degree view was beamed back in high-resolution.
Credit: NASA/JPL-Caltech
Wait a Minute... What's That? During testing of Mars rover Curiosity's mast-mounted Navcams on the second day of operations (Sol 2), small pieces of debris could be seen littering the deck of the rover. Where did it come from? But most importantly, could it be a hazard to Curiosity's instrumentation? As it turned out, the small pieces of gravel were unexpected, but mission manager Mike Watkins isn't concerned about the debris affecting the mission. "Some of the instruments (could be vulnerable to debris), but all check out OK," Watkins said after Discovery News posed a question at the daily JPL press briefing.
Credit: NASA/JPL-Caltech
First Color Photo The Mars Science Laboratory mission will be returning a lot of "firsts" from the red planet's surface, but this was the rover's first color photo from Mars. It's blurred because the dust-protecting lens cap is still attached to Curiosity's Mars Hand Lens Imager (MAHLI), in case you were wondering.
Credit: NASA/JPL-Caltech
That's Mojave Desert! Well, it's not, but there are similarities. As more images were returned from Curiosity, a better view of Gale Crater slowly came into focus. When NASA unveiled the first two full-frame images of Gale, lead scientist John Grotzinger remarked: "You would really be forgiven for thinking that NASA was trying to pull a fast one on you and we actually put a rover out in the Mojave Desert and took a picture, a little LA smog coming in there."
Credit: NASA/JPL-Caltech
Panoramas Although the first 360 degree panorama was composed of thumbnails, the detail was spectacular. Just imagine what a full-resolution version will look like!
Image credit: NASA/JPL-Caltech
The Mission Begins Now that Curiosity has landed and NASA is currently uploading new software to its computers to ready it for surface operations, we can look forward to seeing more mind-blowing imagery from a rover hell-bent on exposing Mars' secrets.
MORE: CURIOSITY HAS LANDED (WIDE ANGLE)

Life is good for NASA's "Mohawk Guy." He became world famous after helping NASA's huge Curiosity rover make a dramatic landing on Mars, and now he'll sit with first lady Michelle Obama during Tuesday's State of the Union address.
The Iranian-American Mohawk Guy — whose name is Bobak Ferdowsi — will sit in the first lady's box to highlight President Barack Obama's call for more visas for skilled immigrants in the fields of math, science and engineering, Southern California Public Radio reported Monday (Feb. 11).
A White House official confirmed the news to SPACE.com.
Ferdowsi will be joined in the box by a number of other people from various walks of life, whose presence may help the president drive home points about some of his policy proposals. The speech begins Tuesday at 9 p.m. EST (Feb. 12; 0200 GMT Wednesday). [Gallery: President Obama and NASA]
Ferdowsi's American flag-inspired hairstyle — a red- and blue-streaked mohawk set off by white stars on the side of his head — rocketed the mission flight director to international fame during Curiosity's nail-biting landing on the night of Aug. 5.
In a complex maneuver that had never been tried before on another planet, the 1-ton rover was lowered to the Martian surface on cables by a rocket-powered sky crane, which then flew off and crash-landed intentionally a safe distance away.
The president even gave Ferdowsi a public shout-out shortly after the landing.
"I understand there's a special mohawk guy that's working on the mission," President Obama said in a congratulatory call to Curiosity's handlers at NASA's Jet Propulsion Laboratory on Aug. 13. "He's been one of the many stars of the show last Sunday night. I in the past thought about getting a mohawk myself."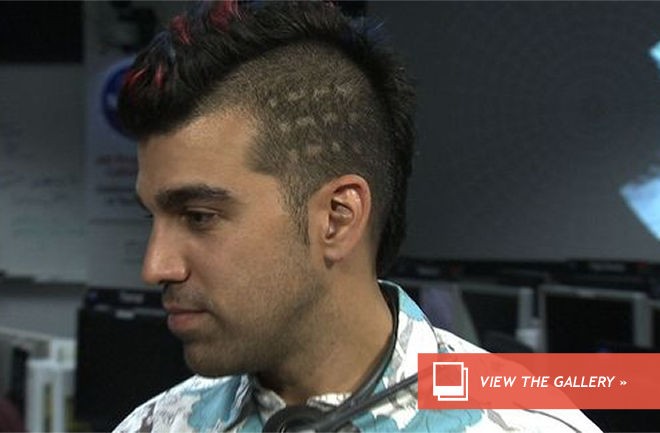 Bobak Ferdowski, a flight controller for NASA's Curiosity Mars rover, recently updated his famous mohawk hairdo to include the Morse Code letters for "JPL" in homage to NASA's Jet Propulsion Laboratory in California, where he works.NASA
Ferdowsi is not a mohawk loyalist, however. He said he has tried out various hairstyles over the years to mark major milestones in the development of Curiosity's $2.5 billion mission, which seeks to determine if the Red Planet can, or ever could, support microbial life.
Curiosity carries 10 science instruments, 17 cameras and several other tools to aid in this quest. Over the weekend, it completed a major milestone, drilling a 2.5-inch-deep (6.35 centimeters) hole in a Martian rock and collecting samples. No robot had ever done this on Mars or any other planet before.
Ferdowsi also marched in President Obama's inaugural parade last month, along with life-size models of Curiosity and NASA's Orion manned space capsule.
This article originally appeared on SPACE.com.
Follow SPACE.com senior writer Mike Wall on Twitter @michaeldwall or SPACE.com @Spacedotcom. We're also on Facebookand Google+.
More from SPACE.com:
50 Years of Presidential Visions for Space Exploration

Mars Rover Curiosity: Mars Science Lab Coverage

Amazing Mars Rover Curiosity's Martian Views (Latest Photos)
Copyright 2013 SPACE.com, a TechMediaNetwork company. All rights reserved. This material may not be published, broadcast, rewritten or redistributed.