NASA to Students: Train Like An Astronaut
If you have ambitions for travel off-planet, it surely won't hurt to exercise and have a good nutritional plan, helping to ensure your days are many.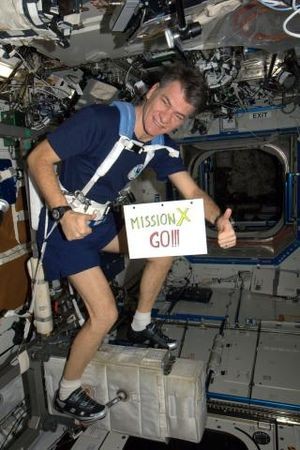 Here's an educational initiative that's right up NASA's alley: How to Train Like An Astronaut. There's no spaceflight in the offing, at least not any courtesy of the U.S. government, but if you have ambitions for travel off-planet, it surely won't hurt to prepare now. At any rate, a good exercise and nutritional plan should help ensure your days are many.
The target audiences of "Mission X: Train Like an Astronaut," a joint project of NASA and 14 international space agencies, are 8- to 12-year-old students, organized into teams for a six-week competition that began this week.
NASA says participants will learn principles of healthy eating and exercise. Teams compete for points by finishing training milestones. In addition to building strength, endurance, coordination, balance and spatial awareness, participants will practice scientific reasoning skills and learn how to work in teams.
"The exercises will involve the same types of skills astronauts learn during training for spaceflights," NASA said in a press release.
In addition to the United States, the Netherlands, Italy, France, Germany, Austria, Colombia, Spain and the United Kingdom are hosting teams for the challenge.
About 800 fourth-graders in the College Station Independent School District in Texas are on the U.S. team. You can track the kids' progress — and download information on the 18 core activities — here.
WATCH VIDEO: Cool Jobs: Astronaut:
Image: European Space Agency astronaut Paolo Nespoli, currently serving aboard the International Space Station, helps kick off Mission X. Credit: NASA