'Museum of Me' Facebook App: The Ultimate Vanity Project
New Facebook app allows users to create a virtual museum of their social network life.
As if Generation Me needed another online pedestal to flaunt its inflated sense of self-worth, along comes this: Intel's Museum of Me app for Facebook, the latest virtual temple of exhibitionism and narcissism.
Developed essentially as an ad for Intel's Core i5 processors, the Museum of Me is ideal for the yawning vainglorious hordes who have grown bored at staring into the low-tech reflecting pool of their Facebook profile and are looking for a more glamorous way to post Blue Steel-face GPOY's. Facebook's wall is certainly no place to categorically display one's Likes. Puh-lease! They belong on the wall of a museum, on video screens that surround a giant three dimensional thumbs-up statue.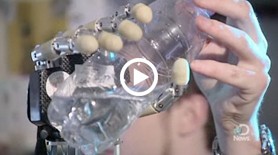 DNEWS VIDEO: IS IT FUTURE YET?
If "creating a visual archive of your social life" in a trapezoidal Xanadu that looks like it was built by architect Zaha Hadid – if that sounds like the bee's knees – then connect to Facebook via the Museum of Me's website and Intel will download your Facebook data and fill the halls and galleries of your very own museum.
Here you'll be waltzed through a video tour of your museum, showered by the flurried tinklings of Takagi Masakatsu's soundtrack. In various "rooms" you can witness virtual strangers gawking at photos, including those of your friends and ones that you've uploaded, dramatically enlarged on your museum wall. There are rooms, also, that exhibit a scramble of words you've used on your profile, as well as a display of places you've traveled.
Your tour ends with a spectacular grand finale, an homage that even the most decadent techie could appreciate. A squad of rank-and-file robotic arms pluck photos from your mid-air permanent collection only to assemble a photo collage revealing your museum's most coveted possession: you.