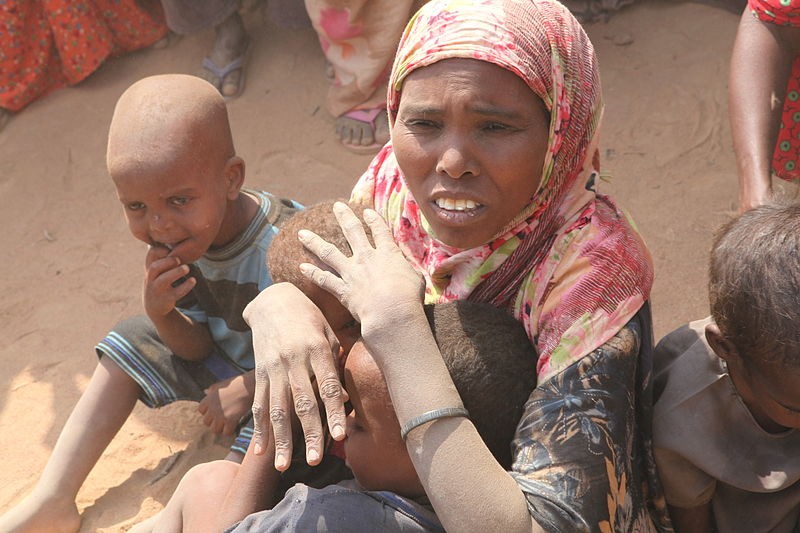 Bitter irony added to the suffering of Somalian climate refugees this month. After fleeing drought stricken areas in the southwest of the country, their makeshift camps in Mogadishu were deluged by heavy rains.
"About 10,000 families displaced by the drought from Bay, Bakool, Lower Shabelle, Lower Juba and Upper Juba regions, who have come to Mogadishu, are now in a serious situation," Aden H. Ibrahim, Minister for Health in Somalia's Transitional Federal Government, told IRIN, a United Nations humanitarian news service.
"They are without shelter, food, water, health facilities as well as latrines. These families are in 50 camps in the capital," said Ibrahim.
The drought in Somalia is part of a more widespread weather disaster effecting all of the Horn of Africa. The United Nations officially declared famine in parts of the region last week, after two years of failed crops withered agricultural production.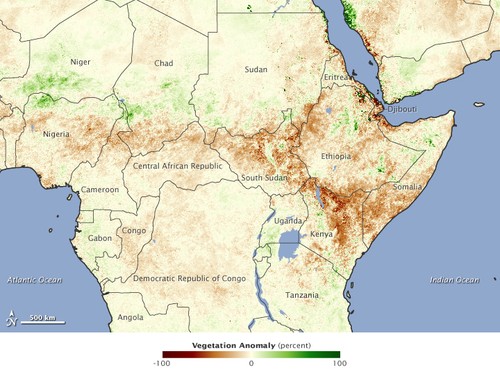 "At present, 2.4 million people are food-insecure and the number is expected to increase, to be stated firmly after the [March-May] long rains assessment," said Pippa Bradford, the UN World Food Program (WFP) country director, in another IRIN article.
"The prolonged drought in the Horn of Africa has created an extraordinary emergency and it requires extraordinary action," Kristalina Georgieva, the European Union humanitarian aid commissioner, said in an article by Agence France Presse.
The World Food Program has begun airlifting food. "The World Food Program takes this function very, very seriously. We are basically the life line and food that we have in our supplies we'll get to people wherever we can," said Amir Mahmoud Abdulla, the chief operating officer of the World Food Program in an Al-Jazeera article.
"We are distributing food in Mogadishu, we are doing it everyday, we are feeding over 300,000 people in Mogadishu including feeding centers around the city," said Challiss McDonough, a WFP spokeswoman.
But Abdiweli Mohamed Ali, prime minister of Somalia, said he believes the UN is hoarding supplies and not distributing them to the needy.
Abdulla told Al Jazeera, that this is simply not true, and that the WFP is doing all it can.
He said the food in the warehouse "looks like a lot but actually it's not a lot of food".
"The food in the warehouse would actually feed a million people for one day," he said.
"To somebody who is … maybe not as familiar with food distribution, it may look like stockpiling … There have been some unfortunate media portrayals of this as if it was stockpiling," said Abdullah.
"I can assure you there would be no purpose for stockpiling in a situation like this," Abdullah said.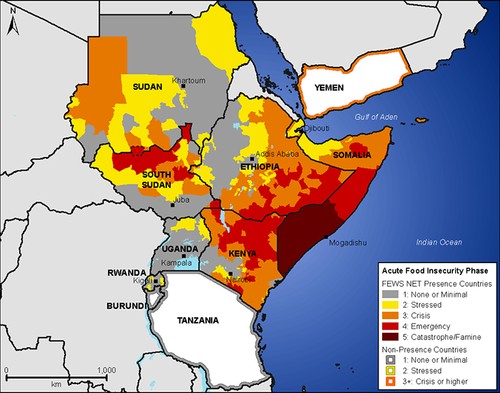 In Somalia, drought is compounded by ongoing civil war. The government controls only a tiny portion of the country. The rest is dominated by pirates, warlords and the Al Qaeda inspired Shebab rebels. Shebab banned UN food shipments in 2010.
While some try to reduce the suffering caused by the drought, longer-term solutions are needed.
"We have to take the impact of climate change more seriously," said Valerie Amos, UN humanitarian relief coordinator, in an interview with the Telegraph.
"Everything I've heard has said that we used to have drought every ten years, then it became every five years and now it's every two years. And it you don't have the rains at the beginning of the year or towards the end of one year then you are going to have a problem into the next year," Amos said.
But even prolonged drought should be manageable in Africa, says Nick Nuttall, spokesman for the UN Environment Programme (UNEP). "We need to look at adaptation," he said. "We can live in crisis mode but there must be a smarter way of bringing development."
DNEWS VIDEO: Text Messages Save Lives
IMAGE 1: Faduma Hussein Yagoub, who suffers from polio and has lost the use of her legs, came with her family to Dadaab on a donkey cart. Her husband and two of her five young children died of hunger on the way. Despite the dangers thousands of refugees every week are making the journey, walking for weeks across the desert and braving attacks by armed robbers and wild animals. July 7, 2011 (OXFAM, Wikimedia Commons)
IMAGE 2: The image shows plant growth during the growing season for the crop normally harvested in June and July. The image was made with observations from the Advanced Very High Resolution Radiometer (AVHRR) on the NOAA-18 POES satellite, which records the amount of light plants in a broad region absorb during photosynthesis. Where there were more leafy photosynthesizing plants than average, the image is green. Brown indicates that plants were sparser or growing less than average. Broad swaths of East Africa are brown, pointing to poor plant growth during the growing season. July 26, 2011 (Wikimedia Commons)
IMAGE 3: The USAID Famine Early Warning System projection of the 2011 Horn of Africa famine for July-September. July 23, 2011 (Wikimedia Commons)