Mountaintop Blows Up to Make Way for Giant Telescope
Groundbreakings are usually sedate affairs -- not so when it comes to laying the foundation for the biggest optical/infrared telescope in the world. Continue reading →
European Southern Observatory/L. Calcada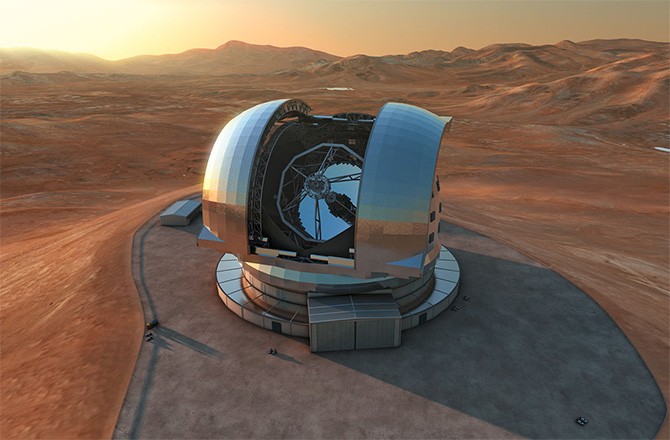 Artist's rendering of E-ELT. European Southern Observatory/L. Calcada
Groundbreakings are usually sedate affairs, with dignitaries shoveling out ceremonial scoops of dirt in advance of actual site preparation for construction.
Not so when it comes to laying the foundation for the biggest optical/infrared telescope in the world.
PHOTOS: ALMA: New Jewel of the Atacama Desert
On Thursday, part of the summit of Cerro Armazones, a 10,039-foot (3,060-meter) high mountain in northern Chile, was blasted off, creating a plateau for construction of Europe's Extremely Large Telescope. The explosion, designed to  obliterate nearly 1 million tons of rock, was expected to reduce the mountain's height by 131 feet (40 meters.)
With its 129-foot (39.3-meter) diameter, multi-segmented primary mirror, the telescope, known as E-ELT, is designed to tackle a wide variety of challenging astronomical studies, including attempts to image planets beyond the solar system.
PHOTOS: Herschel's Coolest Infrared Hotshots
Astronomers expect E-ELT to produce images 16 times sharper than the orbiting Hubble Space Telescope. The observatory will use advanced optics to compensate for atmospheric distortion.
"The E-ELT will allow astronomers to reach deeper into space, further back in time and more intimately into the workings of the universe than any other visible- to infrared telescope ever built," said deputy project scientist Aprajita Verma, with Oxford University, in a statement.
"We can expect breakthrough advances and new discoveries with the E-ELT," Verma said.
Construction is expected to be finished in 2023.