Modern Mourning: New Ways We Honor Our Dead
As traditional rituals fade away, we're finding new ways to mourn -- from online memorials to tattoos.
We humans have never been particularly comfortable with death. That's entirely understandable, of course. Death is permanent and largely unpleasant and we don't know what -- if anything -- is on the other side. For millennia, various cultural and religious rituals have helped us process our feelings about death, providing comfort when a loved one dies.
But those rituals are fast disappearing in our increasingly secularized society -- and we actually really need them. That's the contention of author and professor Candi K. Cann in her forthcoming book, "Virtual Afterlives: Grieving the Dead in the 21st Century." In her research, Cann identifies several emerging trends in modern culture that seem to suggest we're searching for new ways to live with death.
"We're seeing a disappearance of the rituals surrounding the dead," Cann said. "We're not really supposed to grieve out in public, at work, in front of people. So you see this dichotomy of what's almost an obsession with death -- all the vampire movies and zombie movies -- but at the same time there's a disappearance of grief and grieving."
Cann said that, for those people who don't participate in traditional or religious mourning rituals, there's a movement toward do-it-yourself memorializations. People are finding new and often technology-driven ways to honor the dead.
Cann cited the virtual memorials that have become so popular on social networking services like Facebook. Here, people can assemble photos, videos and written tributes for a memorial that can be visited remotely from anywhere in the world. Many traditional funeral homes now offer a private version of the online memorial, often called a virtual headstone option. Cann said that there are now more than 1 million Facebook pages for dead people.
Memorials sometimes go viral in an entirely different way. A recent worldwide pay-it-forward movement was triggered by the sudden and tragic death of a Pennsylvania teenager from epileptic seizure. The family of 18-year-old Alyssa J. O'Neill went to the local Starbucks and bought 40 pumpkin spice lattes -- Alyssa's favorite -- and gave them away to strangers with the hashtag #AJO written on the cup. The story, and the random act of kindness, went viral. The O'Neill's have received pictures of #AJO coffee cups from as far away as Sri Lanka.
Donald Joralemon, professor of anthropology at Smith College in Massachusetts, said these kinds of pay-it-forward tributes have been in the culture for centuries. "But it's like on steroids now," Joralemon said. "Because of the power of mass media and social networks, it just speeds it up and spreads it at a far, far more rapid pace."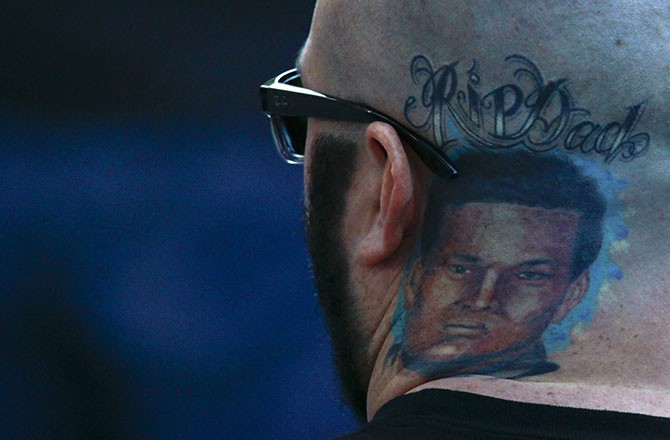 Eric Thayer/Corbis
Joralemon said the practice of erecting roadside memorials is a modern death ritual that has long fascinated anthropologists. "There's a huge amount of literature documenting their emergence and proliferation," Joralemon said. "All of that has seen a huge upswing in just the last 20 years or so." Joralemon said the tradition has roots in Latin America, and also with public awareness campaigns by Mothers Against Drunk Driving (MADD) in the 1980s.
Cann said those MADD campaigns may also have helped to popularize the practice of paying tribute by way of car decals, bumper stickers, or R.I.P. messages drawn on the windows of vehicles. "The thing I love about this is you can move in and out of those memorials," Cann said. "It's mobile, and that seems to fit with our society now. It definitely fits in with this whole do-it-yourself culture."
So-called "mourning t-shirts" are still another recent DIY method of honoring the dead. Cann said the t-shirts are a kind of update of the memorial cards long used in Catholic funeral services.
"Like those cards, the t-shirts will have a picture of the person who died, and their birth date and death date, and maybe a prayer," Cann said. "There are a couple of theories on those -- some think they originated in L.A. gang culture. But I've also seen them circling back to these Catholic enclaves, where they hand out these t-shirts instead of the memorial cards."
Cann said a much, much older method of honoring the dead has come back around in a new form in recent years -- the tattoo tribute. "This goes all the way back to the Bible," Cann said. "There's a warning in Leviticus about not cutting your flesh for mourning. So this been around for thousands of years."
What's new about tattoo tributes these days is that the tattoo artists themselves often act as grief counselors. "This is fascinating to me," Cann said. "These people who get these certain kinds of tattoo tributes done, they often have no place else to go, no one else to talk about their mourning. You're sitting there for hours with this person, you're sharing the story behind the tattoo. It's a deeply personal experience."
Cann said she hoped that her research and the new book, scheduled to come out in the spring, would help us think about honoring our dead in the modern age, as mourning goes mobile, wearable and virtual.
"In more traditional or religious societies, there's this embracing of the dead that happens with these rituals," Cann said. "Like, think about the practice of the Day of the Dead in Mexico. You have an altar in the home. There's incense and candles and flowers. It's bringing the dead into our everyday lives."
"So that's what I think this memorialization trend is doing. It's bringing the dead back into our lives. Because otherwise, we end up hurting ourselves and not knowing how to cope with bereavement."