Mobile App Uses Sound to Keep Mosquitoes Away
Say goodbye to smelly candles and sprays -- this app takes a high-frequency approach to repelling pests.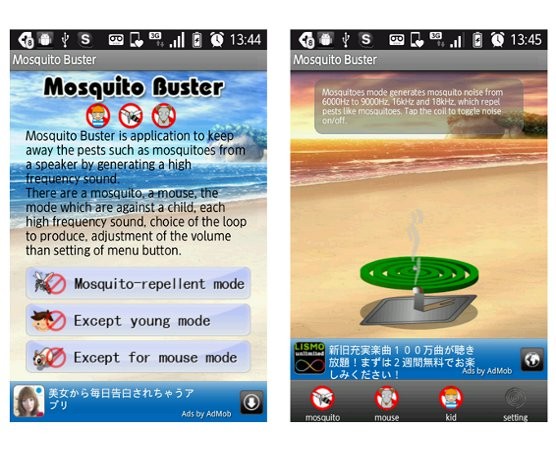 Mosquito Buster: Free
Mosquitoes are a summertime nuisance in many parts of the world, and often the deterrents available to hold them at bay are almost as unpleasant as the insects are. A new smart phone app from Japanese software maker Sea's Garden, however, now offers an alternative to all those malodorous candles, lotions, oils and sprays.
Instead of repellent fragrances, the Mosquito Buster app uses sound to keep mosquitoes away. Specifically, it causes the user's smart phone to emit a high-frequency noise that's inaudible to humans but that the pesky insects reportedly can't stand. Two additional settings on the app use different frequencies to repel mice and — believe it or not — children as well. Mosquito Buster is coming soon to Apple's App Store, Sea's Garden says.