Message in a Bottle Found 76 Years Later
The bottle was tossed into the ocean in 1936 and finally reunited 76 years later with the owner's grandson. ->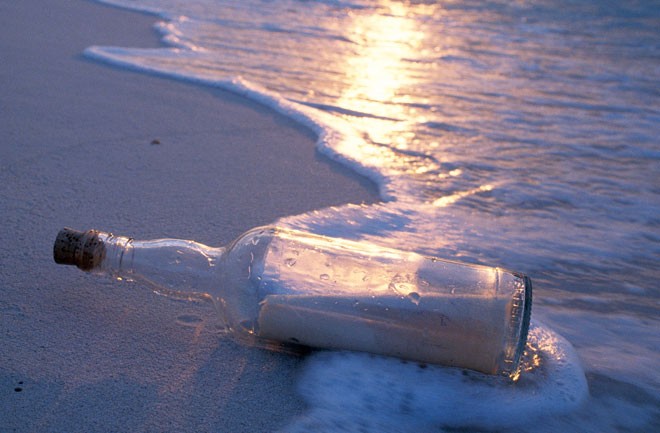 In New Zealand Geoff Flood was walking along a beach when he found a bottle containing a note. He told local media, "As I picked it up and started looking, I could see it was an old envelope with P&O on it and I thought this might be something special. There was a bit of mad panic to carefully extract it. I carefully cut a couple of bits of wire and quietly wound it up with the bits of wire so we didn't damage it. [I thought] Who knows where it's been. How many times around the world, you just wouldn't know, would you?"
The note, dated March 17, said: "At sea. Would the finder of this bottle kindly forward this note, where found, date, to undermentioned address." Underneath the note was written the name: "H E Hillbrick, 72, Richmond Street, Leederville, Western Australia."
Flood tracked down H. E. Hillbrick only to find that he had died in the 1940s. But his investigations lead him to Hillbrick's grandson Peter Hillbrick, who was living in Perth, Western Australia. Peter's guessed that his grandfather had tossed the note into the ocean in 1936, while on on board the SS Strathnaver, a British Royal Mail Ship that carried people between England and Australia. Peter's family has photographs of Herbert and his wife Ethel took on board the ship.
For Peter, the discovery of the bottle was very important as his grandfather died before Peter was born. Peter told the local media, "The only connection I have with Grandfather is now that bottle. That's about all. So, it's a fascinating story."
Mr Hillbrick has decided to donate the bottle to a maritime museum in New Zealand.