Meet The Skyscraper That Melts Cars
A curved building in London aimed a powerful beam of light at nearby vehicles. Continue reading →
Beware the glare. A London skyscraper under construction, called the "Walkie-Talkie" by locals for its distinctive shape, melted a black car parked nearby. The building's curving, reflective exterior is also being blamed for scorching a van, cracking tiles and burning carpet.
10 Worst Tech Predictions of All Time
Martin Lindsay recently parked his black Jaguar XJ on Eastcheap, a street near the 37-story 20 Fenchurch Street building under construction in London. Unfortunately for the tiling company director, the building curve concentrated a beam of light on the vehicle that was so powerful it warped some of the panels beyond repair. Before that, the ultra-bright reflection irritated pedestrians and melted the side panels on a parked Vauxhall Vivaro van.
The windows on the new building work sort of like a parabolic mirror, causing light reflections to converge and focus, the BBC's Andrew Verity reported. Although the sun's position creates the glare at certain times of day, it's still been enough to cause a noticeably bright spot on the street — with enough heat to do damage. One reading from Tuesday measured the hotspot at 196.3 degrees Fahrenheit (91.3 Celsius).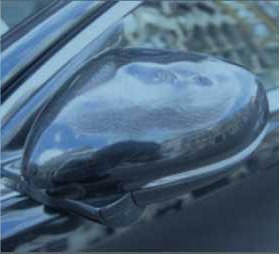 City A.M.'s James Waterson reported that the building's beam of light had also set fire to carpet at a neighboring barbershop as well as cracked tiles and melted paint at a restaurant. Dubbing the skyscraper "Walkie-Scorchie," Waterson also just used the light beam to fry an egg in a pan on the Viet Cafe steps, site of the cracked tiles.
The skyscraper's parabolic mirror effect recalls the "death ray" Vdara Hotel in Las Vegas that gave tourists sunburns and singed hair when the sun hit it at certain times of the day, first reported in 2010. In Los Angeles the curved, stainless steel Walt Disney Concert Hall also caused problems after it opened in 2003, blinding residents, passers-by and drivers with its glare. The steel exterior was sanded in 2005.
BLOG: Mexico City Building Exterior Eats Smog
Meanwhile the Walkie-Talkie building developers told the BBC they suspended parking in the area and are currently working on a solution. The options aren't easy or cheap. Suggestions have included coating the windows and reworking the window frames. Until this gets fixed, the neighboring restaurant could start serving novelty fried-egg sandwiches. Maybe they'll call it the Light Breakfast Special.
Photos: The "Walkie-Talkie" skyscraper in London pictured in August; credit: LEON NEAL/AFP/Getty Images. David Holt and the melted side mirror of Martin Lindsay's Jaguar (bottom): Laura Lean, City A.M.