Meet Ava, iRobot's Mobile iPad Bot
The latest from iRobot is an autonomous robot on wheels that has an iPad for a head.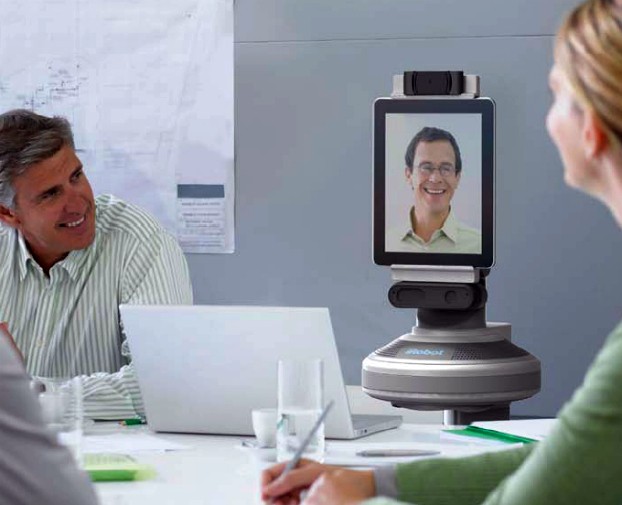 Why, hello there little robot with an iPad for a head. No, it's not a metaphor for what humans are turning into. This roving monitor is Roomba maker iRobot's latest, a navigator called Ava that the company is demonstrating at the International CES 2012 in Las Vegas.
The bot is designed as a platform for human-robot interaction. At the top is a plastic easel-esque part to hold an iPad or another tablet computer, making up the display. The lower body of the robot contains a bunch of sensors, including a scanning laser and ultrasonic 2D/3D imaging. Ava's "torso" is height adjustable and it can move around autonomously. 
One Ava observer from the LA Times described it as looking like "a Roomba vacuum cleaner jury-rigged with a Microsoft Kinect and an Apple iPad tablet." From the videos showing Ava in action, that seems about right, although it does have sophisticated capabilities buried underneath its simple exterior. The robot can interact with users in several ways: through voice, touch and gestures.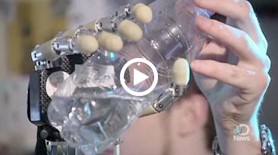 DNEWS VIDEO: IS IT FUTURE YET?
Since it's a platform, the iRobot folks think Ava can be customized for specific tasks as needed. Online, the company shows a series of renderings depicting possible roles for the robot. In one, Ava shines a light on the floor near a building entrance to monitor the area. In another, Ava leads an elderly person in an exercise routine.
The robot's maker, Mark Chiappetta, told reporters at CES that Ava's first applications will likely be providing caregiver support and as a mobile kiosk for retailers. Who knows, when you visit a store in the future, you might be asking Ava for help finding a shirt in your size.
Photo: Ava in a meeting scenario. Credit: iRobot.